Marbella became a fortified city during the Islamic era and although it has certainly developed since, the "old town", with its narrow alleys, main square, Moorish castle and a 16th century Town Hall building still remains and offers a picturesque escape in the heart of the city centre.
During the 70's Marbella became known for it's exclusive A-list residents and jet-setting crowd who where drawn in by Marbella's micro-climate, with an average temperature of 18 Cº, exclusive atmosphere, night life and the development of numerous sporting facilities (Marbella has become especially attractive to Golf players who have a wide variety of Golf Clubs – fifteen golf courses within a 15-minute drive and, this year, host to the 'Golf World Championship'). Marbella's infrastructure has been developing ever since: Malaga airport (which services Marbella) is at a 45 minute drive and now has direct flights with most European capitals and is currently undergoing an extension.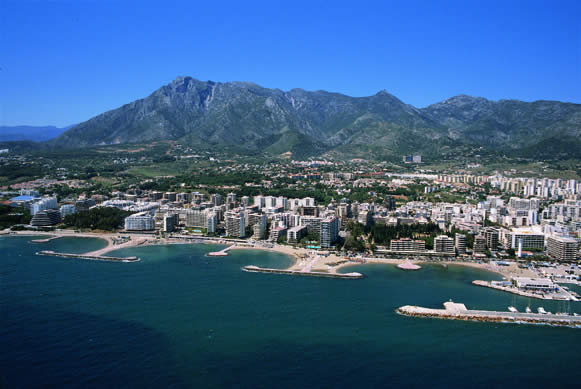 Marbella is ideally located at an hour and half's drive from Granada and its ski resort Sierra Nevada, 2 hours away from Cadiz and its beautiful beaches, popular for wind sports and 4 hours to our neighbouring country Portugal. The new speed train, AVE, now connects Malaga city to Madrid in only 2 and a half hours. Just a short drive through the mountains behind Marbella, one finds the real Spain. Here, the traditional whitewashed villages speckle the spectacular — yet tranquil — Spanish countryside. Recreational opportunities abound here with camping, hunting, fishing, walking and biking topping the list. The area's Moorish history is echoed in its exotic village names: Cartama, Pizarra, Alora (near Malaga), Mijas, Ojen, Monda, Coin, Istan, Benahavis and Casares (near Marbella), all beckon to the curious visitor with their alluring charms.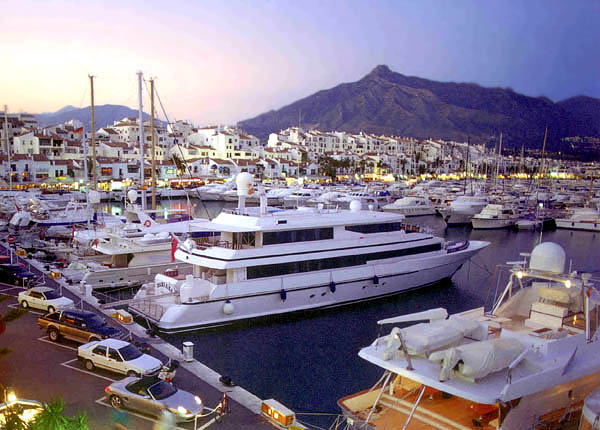 Back in Marbella, the famous Puerto Banus Marina offers exclusive shops and all sorts of dining variety. Here you can find breathtaking yachts, cars and designer shops, as well as a wide selection of bars and clubs. Built over 40 years ago, Puerto Banus has grown into its own unique destination.
Areas within the Marbella municipality, such as Calahonda or Nueva Andalucia, have become popular with foreign residents and over the years a number of international schools have established themselves offering education from kindergarten all the way up to and including secondary education. The need to cater for a non-Spanish speaking population has lead to the establishment of English video stores and bookshops, pubs and cafés frequented by foreigners creating small communities within certain residential areas. Moreover the town hall now organizes events such as the Celebration of German Re-Unification (which will be held on the 3rd of October this year with Folk music and German food in Marbella's main square), or the Russian Week (from the 23 to 29th of September) which has been held every year since 2003.