Marbella City
The guide written by experts for those looking to buy prime property or invest in Marbella City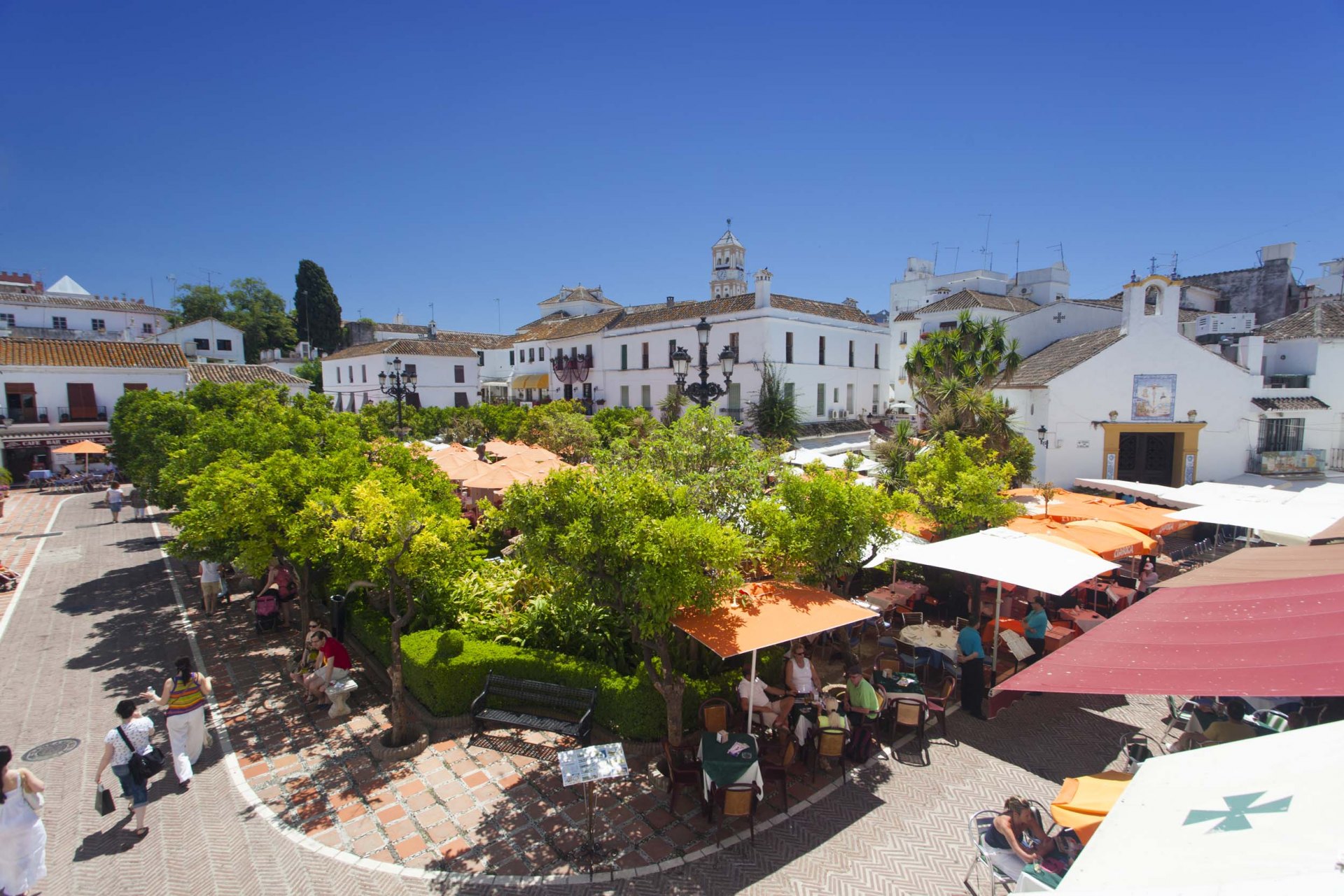 Marbella City, Practical urban living
Marbella City Centre offers a bustling urban setting where the charm of the old fishing village it once was still lingers. Running through the heart of it is Ricardo Soriano, an avenue that divides the town into the beachside area and the inland section. To the immediate west is Marbella's famous Golden Mile and Puerto Banus.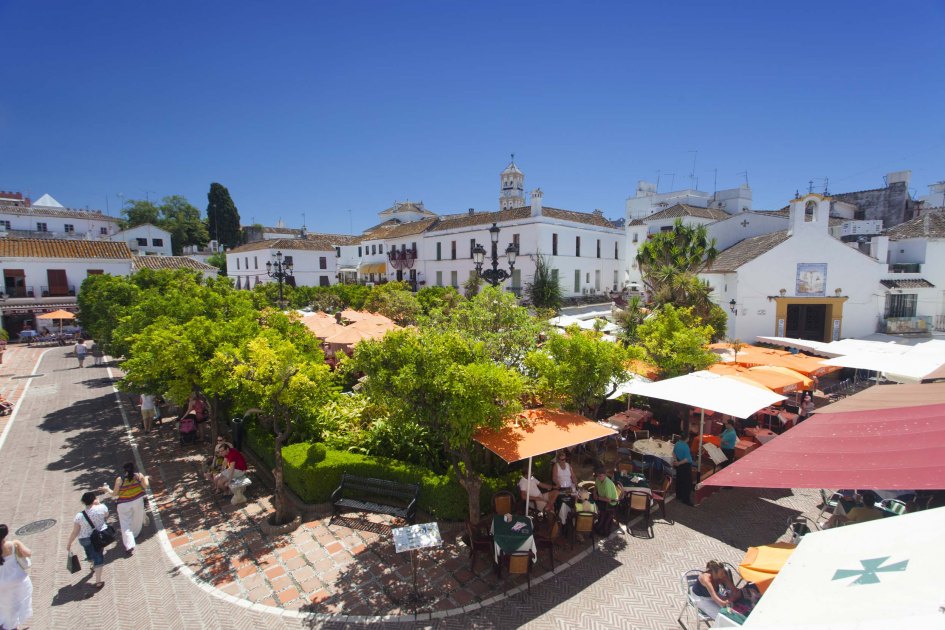 Marbella city is a cosmopolitan place that is visited by numerous famous people and personalities, and that offers you endless possibilities to see and do so that you can discover a city with great historic roots which offers important artistic attractions that have been recently developed.
The beach promenade that runs the length of Marbella City Centre and continues to skirt the shoreline all the way to Puerto Banús and San Pedro Alcántara is an elegant affair, lined with palm trees and covered in marble tiles. It overlooks sandy beaches and the Mediterranean Sea, and offers a wide choice of restaurants, cafes, tapas bars, shops, chiringuito beach bars and ice cream parlours as well as a pretty little marina with its own eateries and night-time venues.
Marbella City Centre became a fortified city during the Islamic era and although it has certainly developed since, the "old town", with its narrow alleys, main square, Moorish castle and a 16th century Town Hall building still remains and offers a picturesque escape in the heart of the city centre. The historic centre of Marbella has a magical charm, full of narrow cobblestone streets, pretty squares with fountains and elegant Andalusian houses. It's an area full of boutiques, shops, tapas bars, cafes and restaurants, with sections of the ancient town walls still there to see. Ivy covered walls in this pastel-coloured town within a town, whose sunny terraces are among the finest you'll find anywhere.
The largest of the Old Town's squares, Plaza de los Naranjos (Orange Square), is so named because of the many orange trees growing there. It is filled with the terraces of surrounding restaurants, and offers a perfect spot in which to enjoy the sun with a drink or light meal, and in the evenings soak up the atmosphere during dinner. The town hall building points to the fact that this was once the most important part of town, but today Orange Square – which takes its name from orange trees planted here in 1941 – is all about enjoyment and relaxation in a wonderful setting.
Situated just off the beachside promenade, Marbella's own 377-berth yacht harbour exudes a pleasantly calming atmosphere. At night it is a lively spot lined with nightlife venues, but during the day seagulls and yachtsmen dominate the scene and all is peaceful. The yacht club offers a good restaurant with fantastic views over the Mediterranean and seafront of Marbella, with children's playground areas and little kiosks nearer the promenade, where little bars and restaurants fill up with visitors in the afternoon.
Marbella also features a fishing harbour, a little further to the east. Authentic in atmosphere, it is close to a series of renowned traditional seafood restaurants. Stroll along and absorb the atmosphere or charter a boat and head out with an experienced crew to see how the catch is made and delivered to the local market.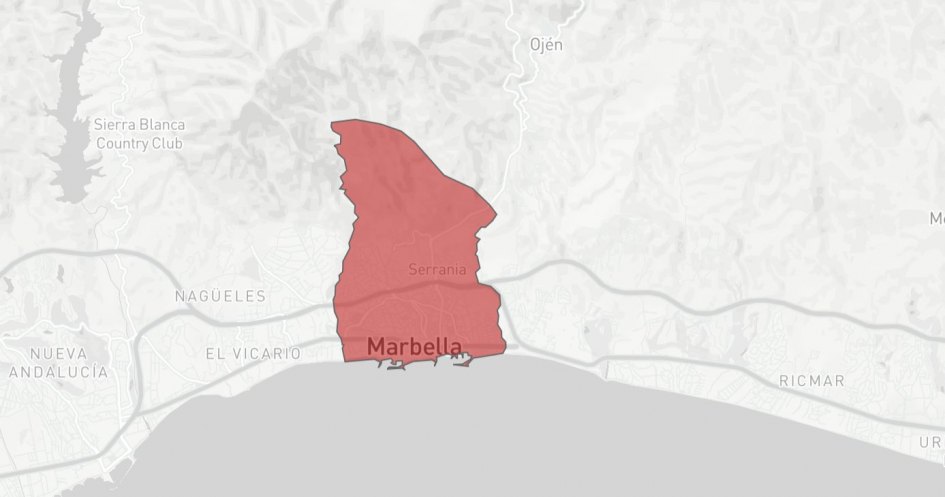 Marbella City Centre is in many ways the more 'Spanish' part of the large municipality, yet its proximity to the sought after areas immediately to its east and especially west, makes it a perfect location for those wanting the convenience of a central location. Although there are some neighbourhoods with villas, mostly above the main road which dissects the city centre, it is a very popular choice for those looking for an apartment or penthouse.
Marbella City: Frequently asked questions
Dealing with buyers and sellers of property in Marbella City for so many years has allowed our team to absorb a vast amount of information and knowledge about the Behanavis area. This is just a selection of the common questions we receive. Please if you have any questions or issues relating to the Marbella City area or the Marbella City property market, please do not hesitate to get in touch and we will be happy to update this guide for future reference
What is shopping like in Marbella City Centre?
Marbella is a shopper's paradise with its many shopping centres, designer boutiques, interior design, jewellery, clothing and accessories, home and garden, etc.
In the Old Town you can enjoy exploring the unusual, small family shops; a mix of traditional and new shops, whose hand-made jewellery and clothing you will love. Each corner has a surprise. There are specialist shops offering souvenirs, olive oil, local pottery and lace, all mixed with historic architecture. A delight for the senses. The smaller stores in particular close from 2pm to 5pm and most of them are not open on Sunday.
In front of the Old Town is Marbella's high-street: Ricardo Soriano Avenue. It is quite a distance from one end to the other, but there are some nice shops and cafes to explore close to the Old Town. It's handy to know about, as there are several pharmacies, dental clinics, optical shops, banks, bakeries, shoe shops, sportswear, high-street favourites such as Mango, Zara and Massimo Dutti and you can get a small shopping fix up there while the family lie on the beach nearby.
Facing the sea promenade and Fontanilla Beach is situated the Plaza del Mar shopping centre where you can find gourmet and food shops, Supercor, restaurants, cafes, a wellness centre and generally other stores that expand your options for shopping in Marbella.
El Capricho Marbella is the exclusive home and decoration store within El Corte Ingles group which is easily reached along the main avenue Ricardo Soriano westward. As well as everything you could dream of in terms of home interiors, you can also take the opportunity to relax at Starbucks and have a coffee, gourmet pastry or light-bite.
If you hear someone mention the "baratillo" (flea market), don't make a funny face because they are talking about the street market that takes place every Monday from 9 in the morning until 2 in the afternoon in the fairgrounds of Las Albarizas. At this market you can buy anything from fruit and vegetables to clothes and footwear, as well as accessories such as bags, jewellery and cosmetics.
What is there to see and do in Marbella City Centre?
There are so many things to do in Marbella City Centre that it's hard to get bored. The centre of the Old Quarter is the Plaza de los Naranjos (Orange Square). The plaza is surrounded by a lot of notable buildings and structures- the town hall or ayuntamiento (16th century), the Renaissance fountain (15th century) and the Casa del Corregidor (17th Century) are just a few. The Plaza is a great place to start your wanderings across the Old Quarter – it is romantic, with its narrow streets, tree-lined squares and balconies adorned with flowers. The narrow and winding streets show the town's Moorish influence, while the trees in the squares were planted by the conquering Christians.
Here are some places that you should look into at the Old Quarter:
Avenida del Mar, which has a beautiful promenade along the sea and has ten non-original sculptures by Salvador Dalí on permanent exhibition. It is an open-air museum worth visiting.
The Iglesia de Santa María, which stands in the Plaza de los Naranjos. A beautiful red stone entrance done in the Baroque style adorns the main façade. This was built in 1618 and its interior underwent restoration after the Civil War in 1936. You can find an old but amazingly, functional organ. It is the most important of all organs built in Spain for the last 125 years. It fills the chapel with the sonorous and worshipful sounds – it has four manual keyboards and a 36-note pedal.
The Santa Maria de la Encarnación, which was built in 1505. The parish was rebuilt in 1712, with Pedro del Castillo and Salvador Gávez spearheading the construction. The construction and sculpting of the main façade was finished in 1756. This is located in the Plaza de la Iglesia, another pretty square that is also lined with fruit trees that provide welcome shelter for those who want to rest from their meanderings.
Las Murallas del Castillo, which holds the remains of the Arab castle and the old city walls. Built in the 10th century during the Caliph period, this castle was once surrounded by towers that served as lookouts. Sadly, all the towers are gone, victims of the ravages of time. Currently, part of the castle and its walls are being restored.
The Old Governor's House, which was built in 1552 and still has the original stone façade that is decorated with a three arched balcony and some shields.
CouncilChambers, this is located within the Town Hall. The chambers are divided into two floors. The second floor is fascinating – its walls are covered with murals that date back to 1572, the ceiling is designed with carvings in the Neo Mudejar style.
Museo del Grabado Español Contemporáneo, engravings & graphic pieces are the focus at this contemporary Spanish art museum with workshops.
The Paseo Maritimo (seafront promenade) is ideal to experience and join the Spanish in the traditional "paseo". Flanked by pavement cafes, restaurants, this promenade is one of the most attractive on the Costa del Sol and has the added advantage of being within minutes of the centre of town. From the sea shore, strolling along this extensive Promenade is one of the many pleasurable things you can do in this luxury and cosmopolitan city.
Due to its location in the very heart of the town, el Puerto Deportivo de Marbella (leisure port) is frequented by locals and also much visited by tourists. The pleasant atmosphere of its bars, proximity to the beaches and wide range of nautical competitions, regattas and sailing lessons for children make this an interesting place to visit. It is structured on two levels: the "terraces of the port", which often host events and shows, are on top and the premises and nautical facilities are below, along with the Club. The beaches of Marbella are dotted with well-known Beach Clubs at which a different sort of day on the beach combining gastronomy, live music and luxurious comforts can be enjoyed.
When is the Marbella fair?
Every year each city in Spain holds a fair or "feria", which is usually a week-long celebration that takes place in city squares or fairgrounds and is a big part of the social and religious calendar. Fairs are particularly popular in the spring and early summer when the weather is more temperate. Festivities in a fair vary from city to city but usually include a parade, outdoor parties with food, drink and dancing, music concerts, rides for older and younger children, fireworks and dance performances.
The Marbella fair takes place in the middle of June and always revolves around the festivity of San Bernabé, patron saint of Marbella, which is celebrated on the 11th of June. It lasts for about a week and most shops close at lunchtime so the whole community can enjoy the festivities. The fair is divided into two distinct parts: Day Fair, which takes place from the beginning in the Old Town and the Alameda Park and Night Fair, which takes place near the La Cañada Shopping Centre. There is plenty to eat, like typical Spanish paella, barbeque, cotton candy, churros con chocolate (donut-like pastry eaten with hot chocolate), candied apples, popcorn, lupins, fresh coconut and other typical fair food.
The town hall of Marbella decorates the streets with flags, posters and colourful garlands, large parasols and tarpaulins are placed around the city to give the streets more shade.
Are there places to go with children in Marbella City Centre?
Located at the gates of the historic center of Marbella, we find the Alameda Park, which has become a famous landmark in the city center, a few meters from the promenade. Alameda Park is a beautiful place in which marbellís and tourists gather to escape, in minutes, from the hustle and bustle of the city. It has, as its core, a large fountain surrounded by lush vegetation, palm trees, beautiful Andalusian tile benches and shade everywhere. In the higher season months, you'll also find a small fairground and things to keep the kids happy while you eat a delicious cake with hot chocolate or an Iberian ham sandwich at La Canasta-bakery and pastry shop of own production.
The Parque de la Constitución is a large park between the main avenue and the beach that was created in the 1950s to offer a peaceful green zone – and that's exactly what it is. There's a little cafe where you can sit and enjoy a coffee or beer while watching the kids play.
Pirate's Park, located right on the seaside promenade, is a family leisure park with inflatable castles, ball parks, trampolines, rides and all the things children love.
Monkey Park, is another popular option, especially when it's rainy, as it is an indoor park with an adjoining cafeteria/bar from where to watch your kids play. Additionally there are several outdoor public playgrounds with swings and slides for children to meet and interact, the most popular ones located right above the yacht harbour.
The area of the Puente Málaga (or Málaga bridge), provides a lovely pedestrian area, lined with trees, where you will find yet another childrens' playground and a lake with ducks and turtles. Just north of the Puente Malaga is Marbella's skate park, where children from around the age of 10 and up meet with their scooters, bikes and skateboards.
The municipal sports complex "Polideportivo Paco Cantos" offers activities for children as well as being a lovely place to go for a walk, ride a bike or skating on the marble lined Parque de Los Enamorados just below.
Another thing that we invite you to do in Marbella is to visit the Parque del Río, also known as the Parque de la Represa. In addition to the artificial lake populated by ducks and turtles, this park includes other places of interest such as the Bonsai Museum, the Viewpoint beside the Lake with Geyser, a cafeteria and a skate park. About 50,000 square metres with fun and entertainment for all ages. For these reasons, it has been awarded twice as the best "Urban Park of Costa del Sol".
Are there any good restaurants in Marbella City Centre?
You will wonder how a small town such as Marbella has so much to offer when it comes to food. It is a gastronomic haven with so many delightful epicurean surprises. You can choose to dine al fresco, or by the relaxing atmosphere of Marbella's many plazas. You can choose to dine in style, with all the works and get a glimpse of how the other half (the rich and the famous) lives. You can choose to immerse yourself in local culture and choose to eat Spanish cuisine. Or, you can travel around the world and taste the various cuisines from different cultures and countries.
You can even just sit and eat Marbella's famous gelatos.
Marbella has a wide array of choices – local, national and international cuisine are yours for the taking. Whatever you choose, you are sure to enjoy a hearty, fully satisfying gastronomic experience in Marbella.
Taste the authentic flavours and ambience of Andalucía in popular local restaurants such as Casa Curro, fresh fish dishes at La Relojera, Los Mellizos, Paco Jiménez, El Canuto or Los Cañizos, Restaurante Gaspar, which has a different handwritten menu every day, Asador Santiago, Marisquería La Pesquera, etc. If you want to eat some "tapas", Bodeguita El Callejón, El Estrecho, Taberna la Niña del Pisto, El Cordobés, El Patio de Mariscal or Altamirano are some of the best.
Are there any parks in Marbella City Centre?
Alameda Park is an oasis in the middle of the town, this is an unusual park in that its floor is covered in cooling marble tiles below a canopy of exotic trees whose rich foliage makes this a refreshing spot even at the height of summer. The trickling water of a large fountain adds to this sense, making it a very pleasant spot to sit and relax, or watch the children play on the mini-carousel and other kids' rides and games.
The Parque de la Constitución is a large park between the main avenue and the beach that was created in the 1950s to offer a peaceful green zone – and that's exactly what it is.
The Parque del Río, also known as the Parque de la Represa, has about 50,000 square metres with fun and entertainment for all ages. For these reasons, it has been awarded twice as the best "Urban Park of Costa del Sol". In addition to the artificial lake populated by ducks and turtles, this park includes other places of interest such as the Bonsai Museum, the Viewpoint beside the Lake with Geyser, a cafeteria and a skate park.
Are there any Beach Clubs in Marbella City Centre?
Walking along the coastal promenade you'll spot stylish beach clubs such as Amare Beach Pool and Lounge, Bocana Beach, Mahiki Beach and Palms Beach. Or head to Playa Padre Beach Club, a beachside spot with a welcoming, communal feel. The elegant beachside venue of Cappuccino for a refined setting in which to enjoy good company, outdoor drinks and good food.
How far are healthcare facilities from Marbella City Centre?
The main public hospital for Marbella, the Costa del Sol Hospital, is located in Marbella East roughly 10 minutes drive from the City Centre. There are also the private Ochoa Clinic, the Premium Clinic and Quiron Hospital in Marbella City Centre.
How far are amenities from Marbella City Centre?
A 15-minute radius includes all the services and amenities you could wish for, including dining, shopping, schools, supermarkets, racquet clubs and several world-class golf courses.
What international schools are there in or close to Marbella City Centre?
Within the city centre itself, is Swan's International College – Primary School (for ages 3 to 12), just behind the El Corte Inglés in the area of El Capricho. The French International School of Marbella offers the French curriculum for kindergarten and elementary schoolers. A short drive out from Marbella City centre and within the Golden Mile is Swan's International College- Secondary School campus as well as the brand new British School of Marbella campus. In Nueva Andalucia, about a 15-minute drive from the city centre is Aloha College International School, one of the leading English-speaking private schools in Spain. In Marbella East there is The English International College (EIC), as well as the German School, both of them offering education for children from 3 to 18 years of age. Heading West towards San Pedro is St. George's School (ages 3 to 8), Calpe School (ages 2 to 11) and Laude San Pedro International College (ages 3 to 18).
Is Marbella City Centre suitable for families?
The majority of the complexes of Marbella City Centre are known for being safe and secure. The proximity to amenities, schools and activities makes it very popular with families.
How far is Marbella City Centre from Puerto Banus?
Marbella City Centre is a short 10-minute drive to Puerto Banus. Depending on the time of year you can get to Puerto Banus by driving directly through the Golden Mile on the N-340 or via the A-7 highway above.
How long does it take to get from Marbella City Centre to the airport?
It's a 35-45 minute drive from the Malaga-Costa del Sol International Airport to Marbella City Centre. Gibraltar Airport is just over an hour's drive. In both cases, it depends on whether you take the faster toll roads or the public highways, and the time of year.
Properties for sale in Marbella City Centre
Villas in Marbella City Centre:
If you are looking to live in a villa and be at walking distance to the city centre there are just a few areas from which to choose from. El Capricho, La Merced and Pavona Real are residential areas of villas just up the road from the iconic Copper Tower of Marbella's city centre, La Merced being the closest and with relatively flat roads. Up the road from the Copper Tower, along the Avenida Canovas del Castillo you come to the areas of El Mirador and a little further inland Valdeolletas. These areas are at walking distance to the centre but the walk back home will be uphill. Lastly, the area of Avenida Huerta Belón or Calle Calvario and Calle Valentuñana are very popular among locals who wish to live in villas but with the proximity of all the services found in the city centre.
The newly built villas of La Fuente, a project of 11 villas designed by renowned local architect Ernesto Palanco, located a few hundred meters up the road from the Copper Tower, sold very quickly during 2021 with prices in the region of 1,980,000€ to 2,900,000€.
Prices for a traditional older villa of 300m2 built on a plot of 1000m2 will start at 1,100,000€.
Apartments in Marbella City Centre:
The western part of Marbella city centre on the beachside of the main avenue is home to what are considered prime apartments. Apartment complexes such as Don Gonzalo, Cipreses del Mar,Gran Marbella, Atrium, Jardines del Mediterráneo or Residencial Palacio de Congresos are the most sought after and offer spacious apartments with communal gardens and swimming pools as well as 24 hour security in some cases. Prices here range from 950,000€ for a 120m2 apartment, to anywhere in excess of 3,000,000€ for a 300m2 apartment. While a complex like Marbella House, which also enjoys large communal gardens and 24 hour security offers smaller apartments starting at 500,000€ for a 120m2 apartment.
In the area close to La Alameda, the Parque de la Constitución and the Marbella Marina there are numerous apartments in old buildings, which in recent years are being bought and refurbished for short term rentals, although in most cases they have the disadvantage of not having a garage. Prices range from 250.000€ for a 42 m2 studio apartment on the seafront to 700.000€ for a three bedroom apartment of 110 sqm. In the east of Marbella centre there are complexes such as Puerta del Mar, Marbella del Mar or La Zambomba, where it is hardly possible to buy an apartment.
The rest of Marbella city centre offers a variety of apartments, in buildings with and without communal areas, or with rooftop swimming pools with prices starting at 180,000€ for 80m2 and 280,000€ for 120m2.
Townhouses in Marbella City Centre:
Most of the townhouse communities are located in the northern part of Marbella. One of the oldest is Las Cancelas where a two bedroom unit with 81 m2 + terrace is in the region of 350.000€. Close to El Mirador Tennis Club is Valdeolletas, priced between 320,000€ and 480,000€ with three or four bedrooms.
Conveniently located close to the Club Med Magna Marbella, re-opened in 2022, there are townhouses in Xarblanca, Huerta del Prado and Sierramar I, II and III which range in price from €500,000 to €600,000 for units between 4 and 6 bedrooms.
There aren't that many townhouse complexes in the city centre of Marbella. The main ones are Guadalpark, El Real de la Ermita or those within the historic quarter of Marbella which will most probably be in need of refurbishment. Prices start at 530,000€.
Property experts in Marbella City
Established in Marbella in 1989, DM Properties - Knight Frank are your local experts for buying and selling property in Marbella City. If you want to learn more on any subject related to the area and surrounding locations, as well as the real estate market in Marbella City, please do not hesitate to get in touch. Our Marbella City property experts, such us Teresa Sánchez or Gerardo Caballero, will do their best to answer any questions you may have.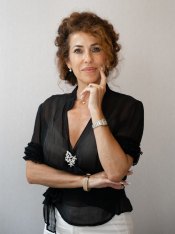 Teresa SánchezProperty Consultant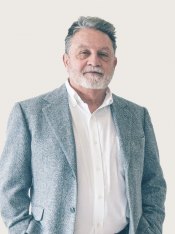 Gerardo CaballeroProperty Consultant
Properties in Marbella City
Areas in Marbella City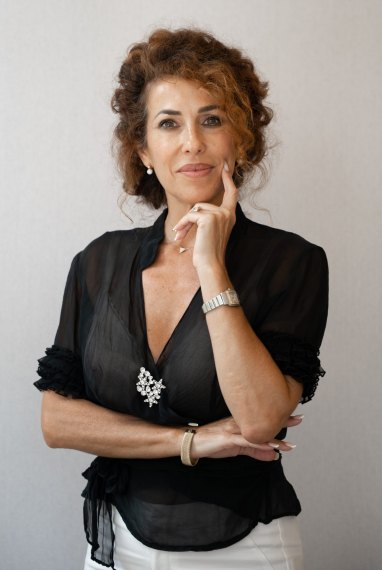 Teresa Sánchez Property Consultant

Can we help?
Call now, ask via whatsapp or fill the contact form and we will get back to you asap.