Aloha, one of the main areas that make up the large, exclusive residential area known as Nueva Andalucía, also finds itself at the heart of what has become known as the Golf Valley. So named because of its concentration of top-level golf courses, this is a part of Marbella characterised by luxurious suburbs interspersed with the greenery of sweeping fairways.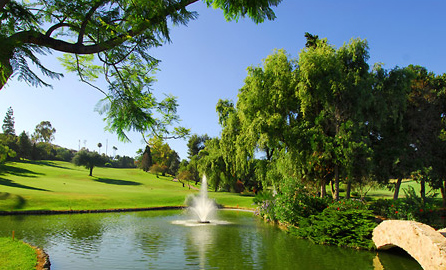 Situated on the mountainside of the main road, roughly opposite Puerto Banús, Nueva Andalucía occupies a verdant valley that looks southwards to the sea and northwards to the coastal mountain ranges and the iconic La Concha Mountain in particular. Here, fine villas but also collections of luxury apartments and pueblo style townhouses lie ensconced within tree cover, with the park-like golf courses snaking in-between to create a particularly lush environment.
Among the finest of these courses, which together represent perhaps the densest concentration of top golf courses in Europe, is Aloha Golf Club. Founded in 1975, it is among the elder statesmen in the region, with a design by the legendary Javier Arana, the man also responsible for El Saler in Valencia and El Prat in Barcelona. Aloha was also to be the last project of Arana before his death, but many consider it to be one of his finest too.
Always a favourite among social players, celebrities and professionals, Aloha has hosted Spanish and international royalty, as well a string of international competitions including the Andalusian Open. The latter attracted the likes of Lee Westwood and Sergio Garcia, to name a few, while the club can also lay claim to having local golfing hero Miguel Ángel Jimenez amongst its 1,500 or so members.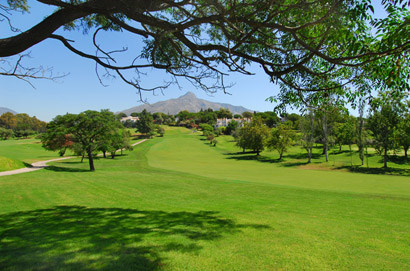 Many of these own properties fronting and overlooking the course, which wraps large swathes of Nueva Andalucía in a green embrace as it meanders its way across it. The result is a course that is not only regarded as one of the best in Spain, but surely also one of the most beautiful, for the rolling fairways create a parkland landscape fringed by well-established trees and dotted with plants, flowers, lakes and greens.
With such scenery on your doorstep it isn't surprising that so many people choose to live in an area dominated by these vistas. Additional draws are the peaceful suburban enclaves that mark Aloha, as well as the proximity of facilities such as shops, bars, restaurants, racket clubs and even Aloha College, one of the finest international colleges in Marbella. Set at the heart of what Marbella is all about, Aloha is a golfer's paradise that is equally close to beaches, Puerto Banús and the town centre of Marbella, making this an area with enduring appeal that offers a good range of property types and prices to suit a good many budgets and lifestyles.