Top-5 properties for sale in Marbella East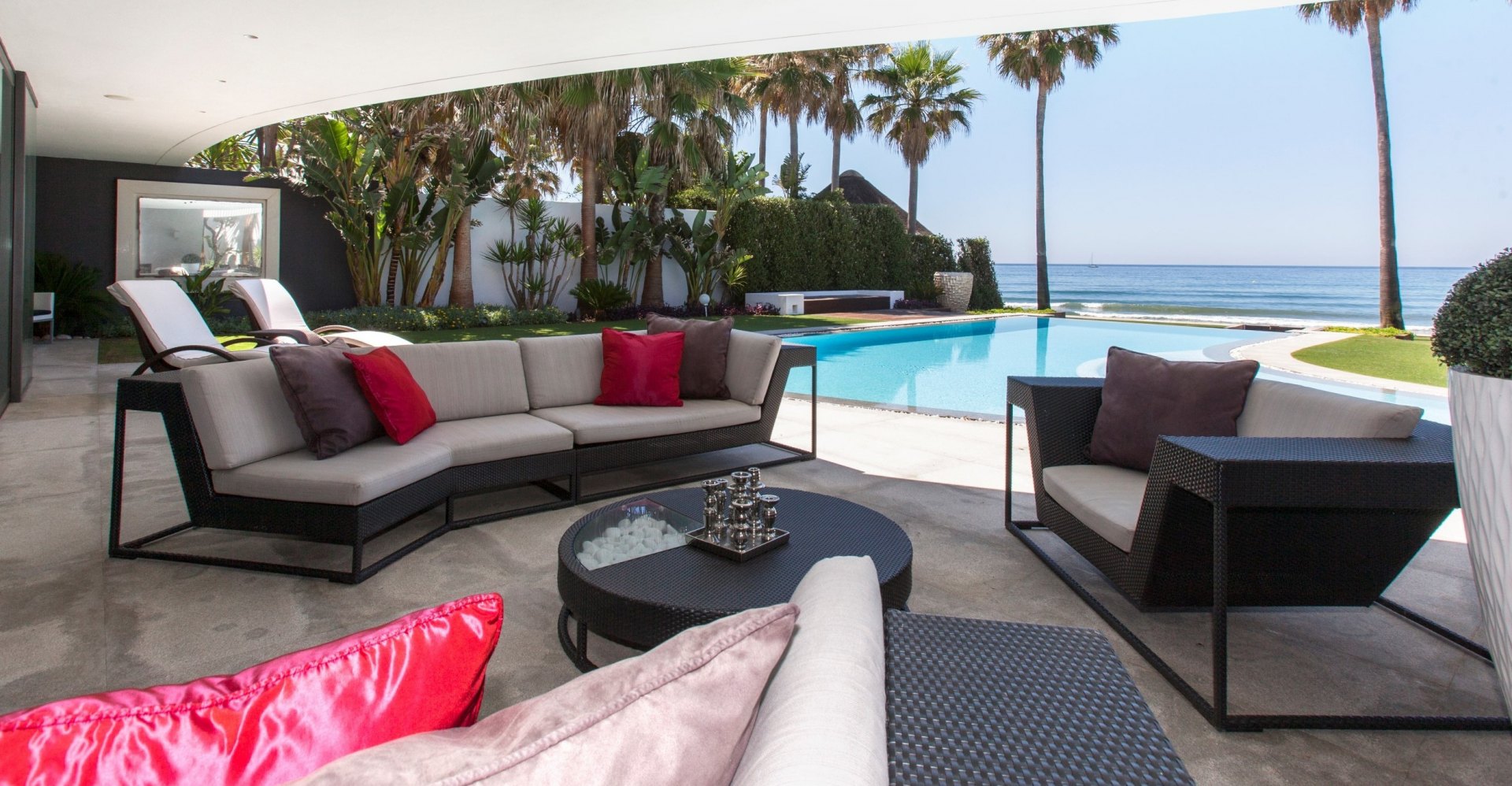 Beauty is in the eye of the beholder and when it comes to properties depends very much on your personal taste, preferences and practical/lifestyle needs. Even so, when you've been in the Marbella real estate market as long as we have you get a feeling for properties that have broad or even universal appeal. In other words, properties that stand out. Here is a selection of top DM Properties/Knight Frank homes for sale in Marbella East.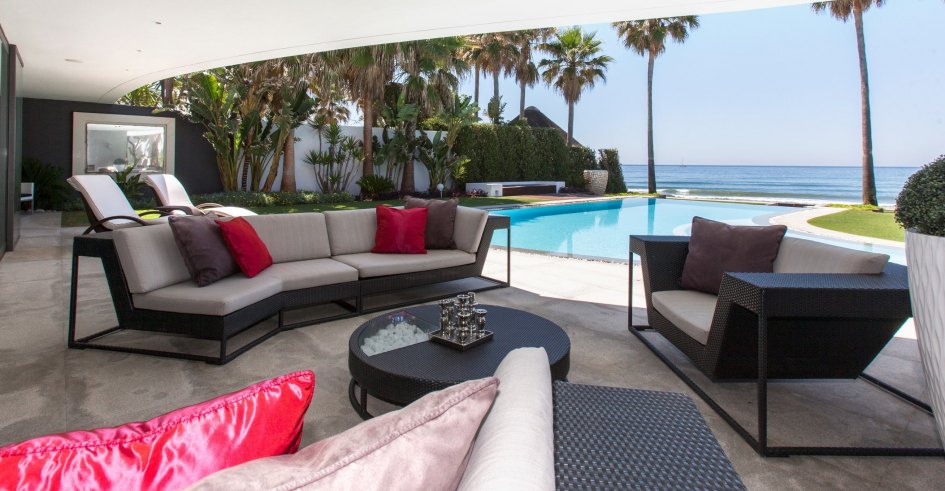 Stunning modern Los Monteros frontline beach villa
You won't find a more impressive modern villa right on the shores of the Mediterranean. This sleek architectural home leaps off the pages of a design magazine and wouldn't be out of place in a Bond movie. Featuring six beautifully laid out bedroom suites, a modern kitchen and spacious lifestyle living area, this is indeed an outstanding lifestyle home in a very secluded address that has Antonio Banderas as one of its neighbours.
The luxurious terrace that follows the sleek lines of the large swimming pool is surrounded by a manicured garden on a level plot with direct access to a very private stretch of beach close to restaurants and beach clubs. From the terraces, the interior rooms and above all the pool, the frontline beach villa offers magnificent sea views where sea and horizon merge in tones of blue; a home for the connoisseur.
Luxury Mediterranean beachside villa in Carib Playa
This classic Mediterranean villa in Carib Playa enjoys a prime beachfront location with direct access to the beach. All amenities are close by, as are Marbella town and Puerto Banús, but the villa is set within an oasis of peace and privacy, something that is enhanced by its mature garden, large terraces and open sea views.
The five-bedroom villa offers a variety of areas in which to enjoy the views, take the sun, relax or entertain by the pool. Inside, this Marbella East frontline beach villa in Carib Playa offers style, elegance and space, with a classically refined distribution, top-range kitchen, spacious living area and comfortable bedroom suites. Impressive but also comfortable and homely, this is a sophisticated villa right by the beach.
Las Chapas villa with sea views
Featuring an up to date interpretation of classic Spanish architectural styling and elegant contemporary interiors, this Las Chapas villa is situated in a peaceful area close to the beach but also within easy range of the many amenities of Marbella East. These include trendy beach clubs such as Nikki Beach, shopping, restaurants, tapas bars, schools, golf courses and a full range of other sports, spa and fitness facilities.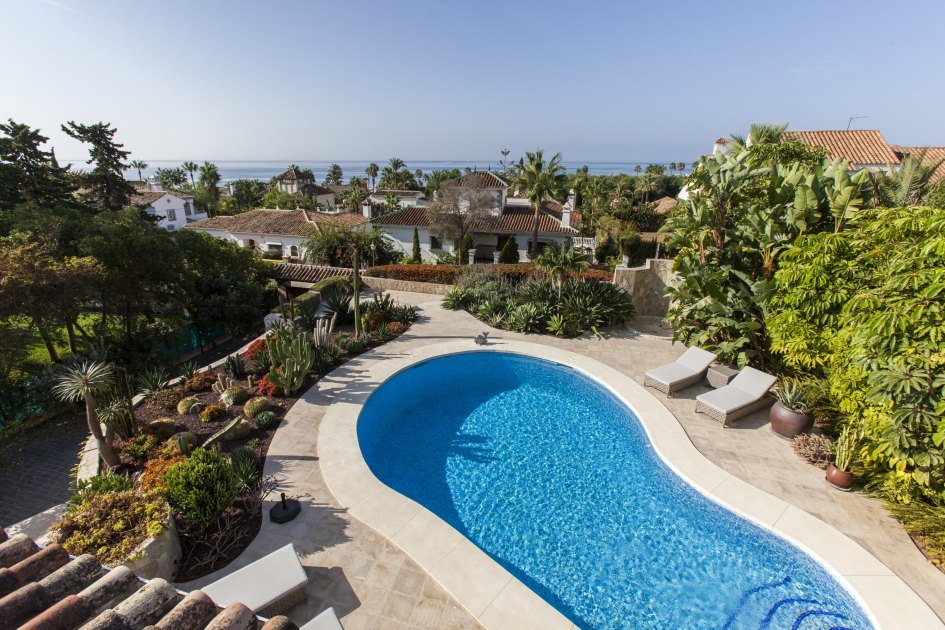 The five-bedroom villa is quality built and features double-height ceilings, large windows through which to allow in the sea views, an open-plan living layout with gas fireplace and a large terrace and pool area. The upper floor is home to the master bedroom suite with marble bathroom, Jacuzzi and dressing room, as well as a second of the in total five bedrooms, one of which forms part of a separate apartment/suite with bar and entertainment area. The three levels are connected with a private lift.
Los Monteros beach apartment
Take one of Marbella's finest addresses, a frontline beach location in Los Monteros and offer the comfort and style of a villa combined with the convenience of an apartment. The result is this luxurious three-bedroom Los Monteros Playa frontline beach apartment with 200m2 of built space. It is located in an exclusive complex set within gorgeous subtropical gardens with large lagoon swimming pools, water features and direct access to the beach.
Stunning sea views are a main draw too, along with top quality materials and finishing, villa standard amenities, dimensions and luxuries. The master bedroom suite with a dressing room, tall ceilings, electric shutters, private Jacuzzi and top-spec kitchen are examples of this. Enjoy the refinement of a villa in a stylish beachfront location in Marbella East.
Rio Real frontline golf apartment
If ever you wanted stunning views across a lake, manicured golf course and wooded hills to the sea, this fine three-bedroom apartment covering almost 200m2 of built space is the property to look at. Rio Real is known as an enclave of peace and beautiful scenery in a setting just a few minutes from the beach and Marbella town. Everything is at your fingertips, but the spacious Rio Real frontline golf apartment offers a comfortable, stylish holiday home in which to enjoy the views, climate and lifestyle of Marbella.
If you are searching for quality homes and professional service in Marbella, please put us to the test. DM Properties/Knight Frank is a leading Marbella real estate agency with many years' experience and a reputation for quality and service.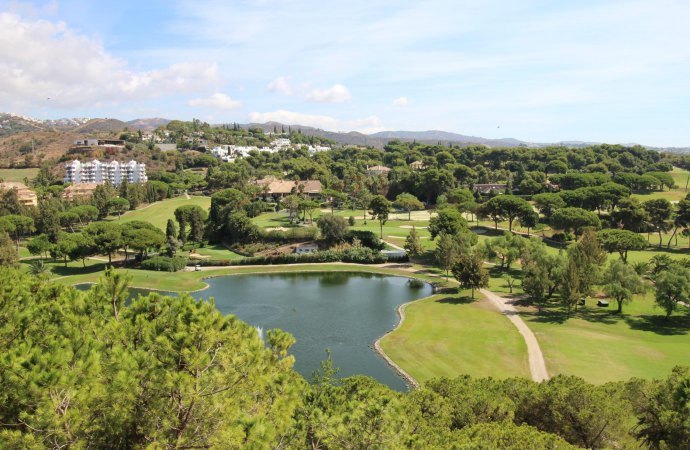 Perhaps a little less famous than the areas surrounding the central parts of Marbella, the eastern area is just as enticing, incorporating many excellent golf courses, the best beaches in the area, a stylish marina, and excellent shopping, dining and nightlife facilities. The eastern area is as enticing as other areas around the central part...
Related Articles