Atalaya
The guide written by experts for those looking to buy prime property or invest in Atalaya, area of Estepona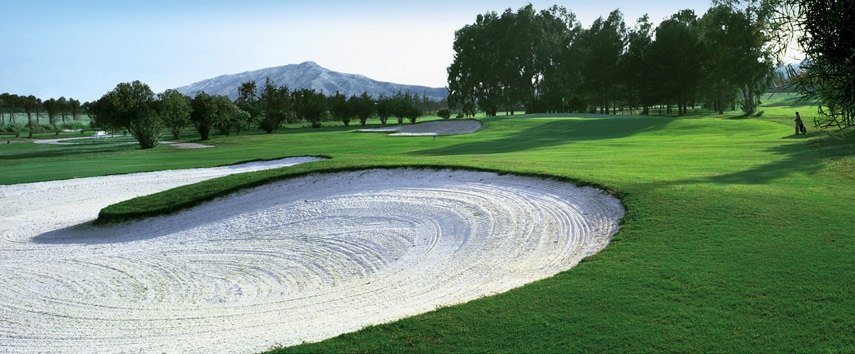 Atalaya, Classic golf charm
Atalaya is situated towards the eastern end of the municipality of Estepona. The A-7 road divides it into two sectors, beachside and hillside. The beach side is bordered to the east by Casosola urbanisation and to the west by the urbanisation of El Presidente. Above the A-7 road, to the east the Benahavis road and to the west, El Pilar, with La Alqueria to the north.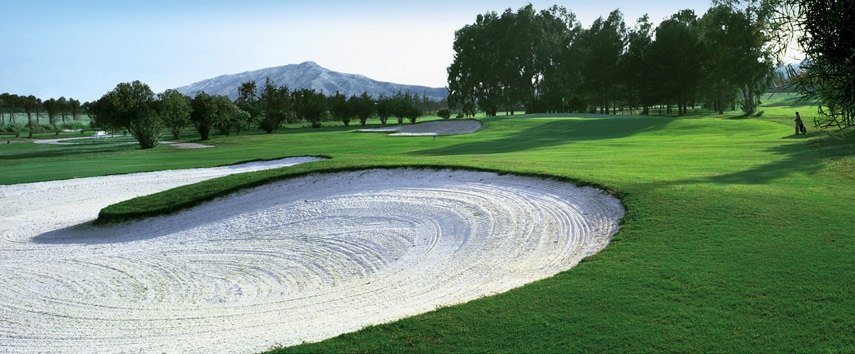 Initially Atalaya developed under the shelter of the beachfront Atalaya Park Hotel, with single-storey houses and terraced houses. With the opening of the Diana shopping centre in 1987 on the other side of the road, the construction of apartment complexes and townhouses, and to a lesser extent detached houses, gained momentum.
The proximity of San Pedro Alcántara at a distance of approximately 4 km, a shopping centre with various services, the ease of bus stops both to Marbella and Estepona, its wide streets, its golf club with two courses, its green areas, its two public schools, make Atalaya an ideal urbanisation for families.
Atalaya was originally an urbanisation of houses which over the years has seen the construction of apartment complexes and townhouses, initially of average quality and in recent years of higher quality and modern design. Some villas have been modernised but most of them are still older, more traditional looking homes.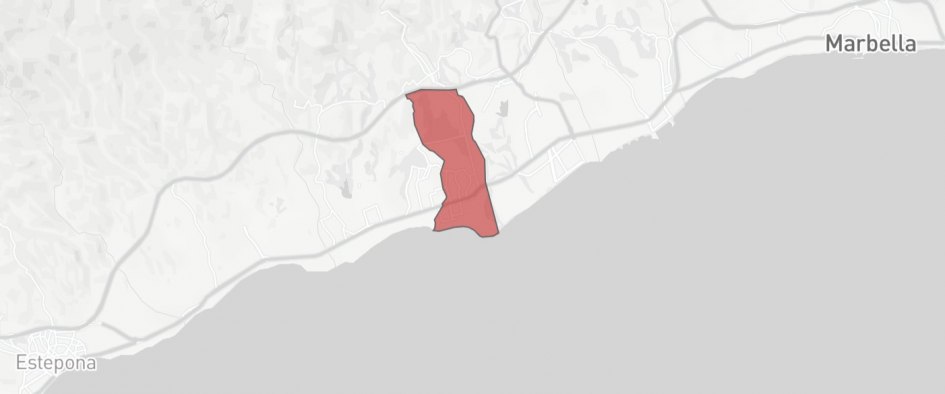 With its tranquil streets, Atalaya offers privacy and peace in an excellent location close to San Pedro Alcántara, Puerto Banús, the beach, golf courses, shopping, dining, schools and other amenities.
Atalaya: Frequently asked questions
Dealing with buyers and sellers of property in Atalaya for so many years has allowed our team to absorb a vast amount of information and knowledge about the Behanavis area. This is just a selection of the common questions we receive. Please if you have any questions or issues relating to the Atalaya area or the Atalaya property market, please do not hesitate to get in touch and we will be happy to update this guide for future reference
What is shopping like in Atalaya?
Although there are three shopping centres in Atalaya, most of the commercial activity is concentrated in the Diana Shopping Centre, where you can find businesses and offices of all kinds, from bars and restaurants mainly, a supermarket, a chemist, a car rental, a hairdresser, a study centre, a law firm to an architecture studio. At the entrance of the urbanisation is the Biarritz shopping centre, mainly with offices but also with a car dealer, a furniture shop, and massage centre. To the west of the Diana Park Hotel is the Atenea shopping centre and across the road, on the beachside is the third centre Isdabe del Sol, which offers the Aldi Supermarket, a large car park shared with some cafes and a restaurant. Nearby, there are a number of businesses ranging from a chemist, a laundry to a couple of bars and a furniture shop.
Are there any beaches in Atalaya?
The beach is unremarkable in this part of Estepona between El Saladillo and Guadalmina river, which is the municipal boundary of Estepona with Marbella. A somehow narrow, quiet, sand and pebble beach.
What healthcare facilities are available in Atalaya?
Next to the Atenea Shopping Centre is IVEI Clinica Vascular Marbella with a Wound Healing Unit, Angiology Unit, Vascular and Endovascular Surgery and Laser Therapy among other treatments.
There are other clinics in the area, although not within the urbanisation. The nearest are Clinica del Rio in San Pedro Alcantara at approximately 3.5 km. or Hospiten at 13 km. to the West.
The nearest Health Centre managed by the Andalusian Public Health Service is in San Pedro. Alternatively there is another one located in Cancelada, approximately 3.5 km away.
Is Atalaya suitable for families?
Atalaya is an ideal area for families due to its wide streets, green spaces and above all for its tranquillity and access to shopping areas and schools.
What child friendly activities are there in Atalaya?
Approximately 7 kilometres east of Centro Diana shopping centre is Selwo Aventura, the Costa del Sol wildlife safari park, with more than 1000 animals in semi-freedom conditions, in different ecosystems on more than 100 ha.
For rainy or colder days there are two children's indoor parks, Mundomania and Kidz Kingdom in Belair at approximately 4 to 5 minutes drive away heading East , both with seating areas for parents and coffee shops.
Are there any good restaurants in Atalaya?
The Argentinian restaurant The Garden by La Rosa, the Italian La Capannina and the Asian Everest Fusion are excellent restaurants, all within walking distance, depending on where you are in Atalaya. El Campanario Golf and Country House is another option for international, Spanish, vegetarian, vegan and gluten-free cuisine in a peaceful atmosphere.
The Diana shopping centre offers several tapas bars and restaurants.
How far are amenities from Estepona?
Leisure and other activities are within easy reach within a 5 km radius, either in the so-called New Golden Mile, within which Atalaya is located, or in San Pedro Alcantara.
Where are the nearest golf courses in Atalaya?
Atalaya Golf & Country Club, with two tracks: the old one inaugurated in 1968 and the new one, each with 18 holes and El Campanario Golf Club with a 9-hole course.
What cultural activities are there in Atalaya?
Cultural activities are mostly centred in either San Pedro Alcantara or Estepona.
What is the top sight in Atalaya?
Undoubtedly the living nativity scene that takes place every year in Atalaya, a few days before Christmas in an open space behind the Diana shopping centre, is something worth seeing.
What outdoor activities are there in Atalaya?
The Watchtowers of Casasola and Saladillo route for the hikers is an interesting walk of 10 km. of circular type. Beside this already mentioned route, there are also trail running and mountain bike routes.
Are there tennis clubs in Atalaya?
Troyano International Tennis Academy next to El Campanario Golf course and surrounded by subtropical gardens boasts 7 tennis courts – 5 of which are red clay – with floodlights for evening training. The remaining three are hard courts.
About 1 km. away from the beach is Alhambra del Golf Padel Club with six outdoor courts.
How far is Marbella City Centre from Atalaya?
Marbella City centre is approximately 17 kilometres away from Atalaya.
How long does it take to get to the airport from Atalaya?
Malaga-Costa del Sol airport is 67 km. away while Gibraltar International airport is only 60 km. away.
Where are the nearest private schools in Atalaya?
The Atalaya International School (3 to 18 yrs) offers both Spanish and English education including GCE and IB. The school, set on 16.000 sqm. of land provides a 6-route bus service from Sotogrande to Elviria, as well as excellent sports facilities and an in-house kitchen.
Mayfair Academy, founded in 1997 and located in Atalaya Park, takes children from the ages of 3-18. Its programme is based on the Cambridge Pathway and the British National Curriculum.
What are the best hotels in Atalaya?
There are three hotels fronting the beach, one is 4* Star Sol Marbella Estepona, the Marriott's Playa Andaluza and the all-inclusive 4* Star Hotel Playa Estepona, with the largest water park on the Costa del Sol.
Above CN-340 and neighbouring Diana Commercial Centre is Diana Park hotel, with 90 rooms, an outdoor pool and garden area.
What is the postal code in Atalaya?
Atalaya postcode is 29688
Properties for sale in Atalaya
There are different areas of interest within Atalaya. One is Isdabe or beach side, whose points of interest are the hotels on the beachfront and the Isdabe del Sol Shopping Center. The others, above the CN-340 highway, are Monte Biarritz, the area next to the Diana Shopping Center, El Campanario and the newly developed area between the Atalaya golf course and Club House and the Atalaya International College.
Apartments in Atalaya:
Atalaya is made up mostly of apartment complexes and townhouses.
Hacienda del Sol, on the second line of the beach, offers apartments from €295,000 for a two-bedroom apartment up to 750.000€ for a 3-bedroom duplex penthouse.
Except for four that are behind the C.C. Diana, – Las Acacias, Atalaya de Cortesol, Atalaya del Golf and Nordic Royal Club- the rest are in the area of El Campanario, which together with the Golf & Country Club, were the first to be developed in 2002. Nearby are El Real de El Campanario, El Campanario Hills, El Campanario del Paraiso, Agra Residencial, Cortijo del Golf, Cortijo del Mar and Atalaya Emotion under construction. Prices start at 250.000€ for a ground floor 2-bedroom apartment up to 800.000€ for a 4-bedroom duplex penthouse.
Prices range between €425,000 and €950,000 in recently built complexes such as Benatalaya, Marques de Atalaya, Las Terrazas de Atalaya or Cataleya.
Townhouses in Atalaya:
There are about 25 townhouse complexes in Atalaya. Most of them are located above the CN-340 road, except for Las Yucas which together with Mar y Monte are the oldest complexes in Atalaya. Their prices are between €185,000 and €650,000.
Villas in Atalaya:
Isdabe- Atalaya has villas of all styles and budgets. Most are in traditional Andalusian style, built between the '80s and '90s, some even earlier. Although in recent years, as is the trend on the Costa del Sol, they are being renovated in a contemporary style. Prices start at 600.000€ for a villa on a 600 m2 plot. However, there are not many more for sale, except for a few that occasionally come up for sale.
Currently, recently built modern-designed villas available for sale are mostly in the El Campanario area, in complexes like Belfry o, The Sanctuary Villas, 17 Villas and Serene, these two under construction or in Arboleda, next to the exit to the Benahavis road.
Property experts in Atalaya
Established in Marbella in 1989, DM Properties - Knight Frank are your local experts for buying and selling property in Atalaya. If you want to learn more on any subject related to the area and surrounding locations, as well as the real estate market in Atalaya, please do not hesitate to get in touch. Our Atalaya property experts, such us Teresa Sánchez or Gerardo Caballero, will do their best to answer any questions you may have.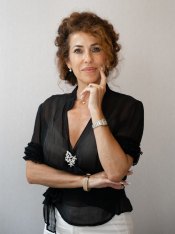 Teresa SánchezProperty Consultant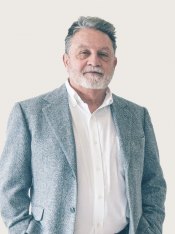 Gerardo CaballeroProperty Consultant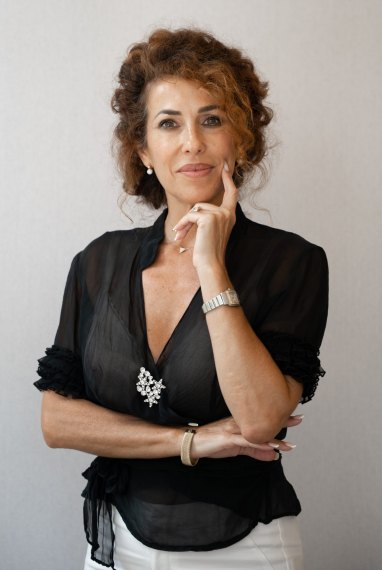 Teresa Sánchez Property Consultant

Can we help?
Call now, ask via whatsapp or fill the contact form and we will get back to you asap.