Refurbished gem overlooking Las Brisas Golf Course, Marbella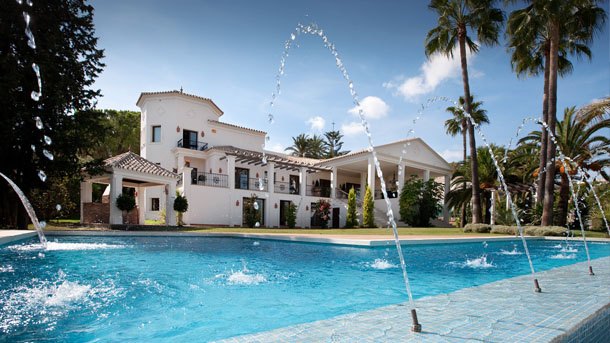 Set in a peaceful cul de sac in the heart of Nueva Andalucía's finest area, this tastefully refurbished villa is located in a prime spot with lovely views across the fairways of the Real Club de Golf Las Brisas – and all the way across the verdant valley to Marbella's iconic La Concha Mountain.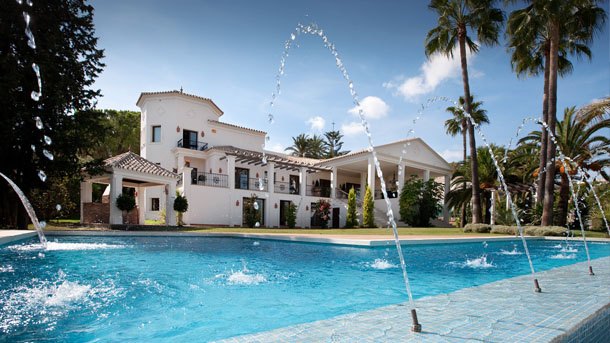 Inside and out, this refined home is a study in elegance and style, the product of a refurbishment that has seen the property converted into a comfortable, modern and luxurious villa that meets all the requirements of today yet maintains the timeless appeal of its contemporary-classic architecture.
Refined tastes
Ambient lighting casts the home in a welcoming glow and highlights its stylish outline and beautiful setting. Step inside and a hallway leads you to the spacious open-plan living and dining room that connects with a superb modern kitchen in the American style. Inspired by the grand apartments of Manhattan and mansions of California and Florida, this is a living area that oozes quality, taste and elegance yet also forms the comfortable heart of the home.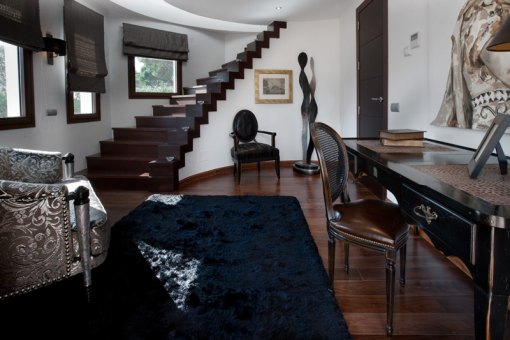 The layout allows the three spaces – living room, dining room and kitchen – to function independently of one-another whilst also forming a single space in which the elements compliment each other beautifully. It is the kind of place you want to spend time in, with a lounge that looks out over beautiful scenery and features such details as a large modern gas fireplace flanked by recesses with ambient LED lighting that call out for your finest art works.
Designed in such a way that it interacts both with the living room and the kitchen, the dining room is both practical and attractive, with its own inspiring views of the surroundings and a functional proximity to a modern gourmet kitchen that matches Italian design and top of the range German appliances with beautifully finished wood. Form and function are in balance here too, where a simple touch will reveal or hide modern kitchen apparatus to leave your kitchen clean and uncluttered.
Good design means natural light flows into most every room in the house, including the formal dining room that leads on from the kitchen and enjoys it own bay window with sunny views. It is an area with a great many possible uses, ranging from a formal dining room to a study, a children's playroom, a modern wine cellar or even a bar that communicates with the living room.
Also on this main level, leading on from the hallway, are three spacious bedroom suites featuring quality wooden floors, elegant modern bathrooms and the same high standards of carpentry enjoyed throughout the home. This includes solid tall doors to match the tall ceilings, but also made-to-measure cupboards with built-in storage systems that glide as effortlessly as the sliding doors, which lead directly on to the panoramic terrace.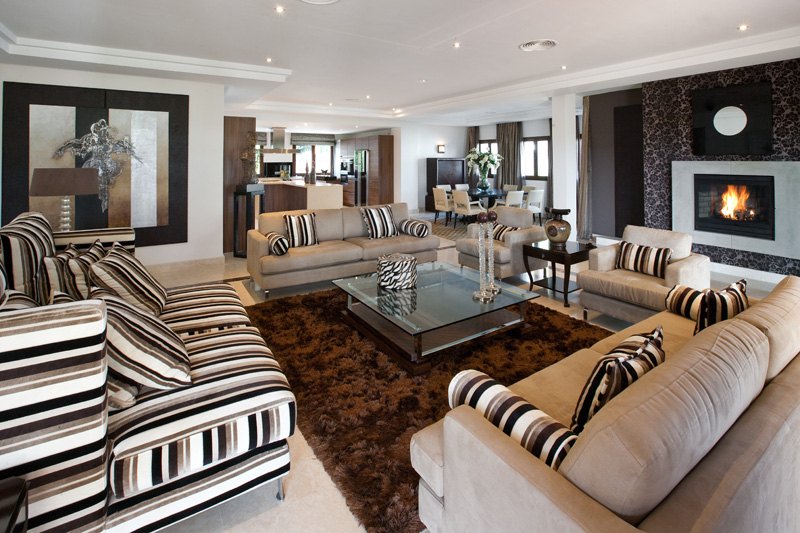 Though they feature the same use of clean, modern styling, Japanese style basins and beautifully finished combinations of tile and stone, each of the bathrooms is personalised in finish, layout and configuration. A rather unique touch of elegance is the manner in which the main bedroom suite is designed and finished, effectively forming a private wing in the classic tradition.
You enter this bastion of privacy and comfort through a bright and attractive reception room from which stairs lead to the bedroom, walk-in dressing room and opulent bathroom that occupy the first floor of the home. Perfect in itself as an area in which to read, relax or have a private office, the reception room is merely a prelude to very private suite that enjoys some of the finest views in the home and a sunny balcony just made for enjoying a morning coffee or evening sundowners.
The Marbella lifestyle at its best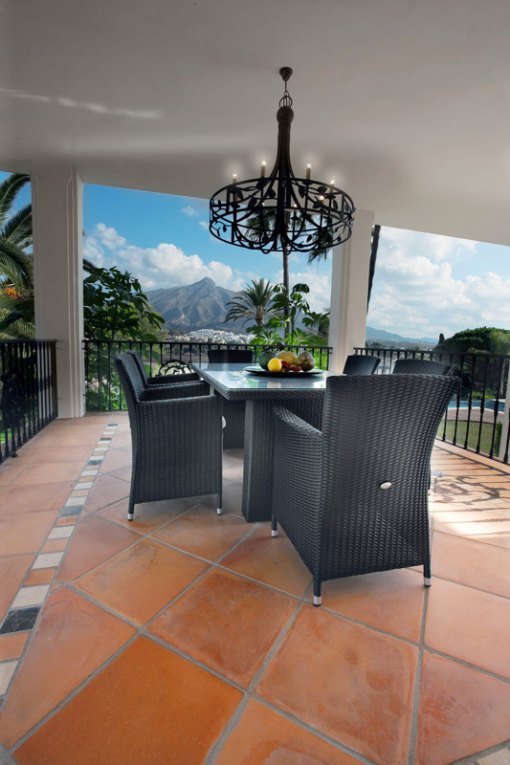 This would, however, not be a prime Marbella villa if it did not also pay attention to the outdoors. Since the climate permits us to spend a significant part of the year outdoors, the refinement, comfort and style of the interior has to be extended into areas such as the large panoramic terrace and the areas surrounding the garden and swimming pool.
Although the terrace extends across virtually the entire width of the villa, a protruding section framed by elegantly wide steps leading down to the garden on either side is a very special and affective feature in which it is a delight to dine, entertain and just take in the stunning views.
Besides its prime location in the midst of an exclusive established area, it is the wonderful garden which reveals that this is a refurbished villa, for it takes time to create such a well manicured garden with flowering plants and tall trees that cast welcome pools of shadow and frame the vistas in the rich tones of their foliage.
A modern swimming pool with deck area, infinity edge dropping away to merge with the scenery and spa-style jets, borders an outdoor bar with catering facilities. Where in many villas the lower level is subterranean here it is set on the garden level, providing direct access to the pool and bar.
Instead of a basement, therefore, it consists of a spacious open room currently used as a second lounge and dining area, whilst also containing the villa's fifth bedroom and sixth bathroom, all of which connect to the large double garage and an area suitable as a home cinema, bodega, indoor pool, sauna or gym. While it can function as an independent apartment, this lower level offers a great flexibility of uses, including games room, library and office.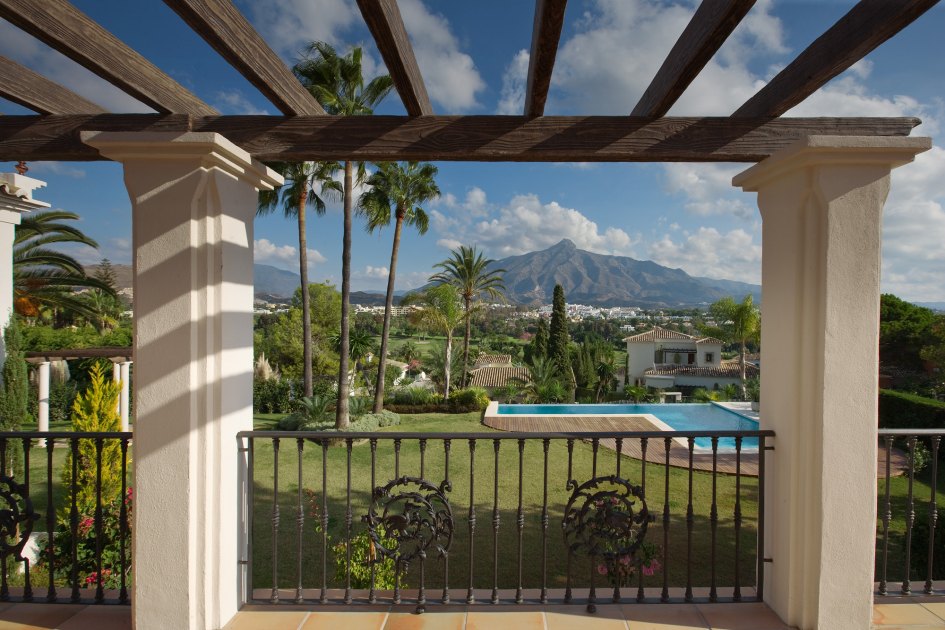 Modern yet featuring a timeless elegance and refinement, this stylish villa offers the best of Marbella in a location that is peaceful, secure and private, yet within a few minutes of the shops, schools, beach clubs, restaurants and golf clubs of Nueva Andalucía, Puerto Banús and Marbella town.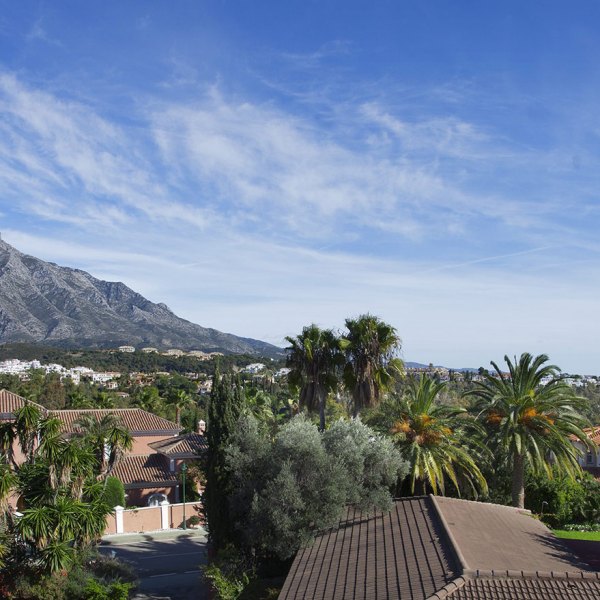 4 min. read · Pia Arrieta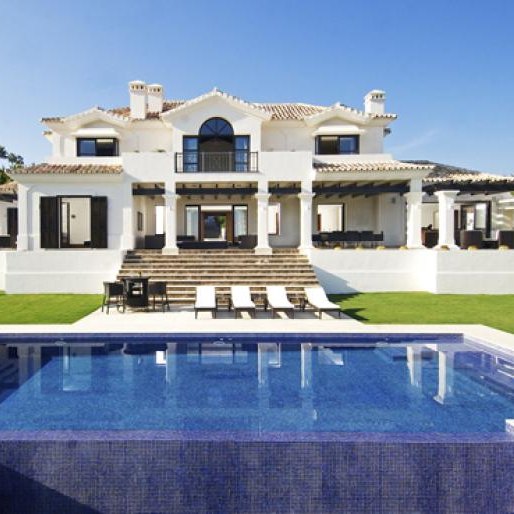 4 min. read · Diana Morales