A country club environment midway between San Pedro (the small town just west of Marbella) and Estepona, Los Flamingos offers life on the edge of the built up coastal strip yet still less than three kilometres from the sea. Right near the coast road that takes you to Estepona within five minutes and Marbella in around fifteen, Los Flamingos has a country feel about it. The perspectives here vary from sea to mountain views, yet a common feature is the golf course, whose green carpet punctuated by cypresses, cork trees and olive oaks give it a rather Tuscan aspect.

Adding to that impression is another central feature of life at Los Flamingos, the luxurious Villa Padierna hotel. Opened less than ten years ago, it already has the established feel of a grand Mediterranean palace that has dominated its estate for many a generation – thanks in part to its opulent classic looks. A sumptuous five-star resort hotel complete with stately lounges, suites, restaurants, meeting rooms and some of the finest banqueting facilities in Marbella, the Villa Padierna also has an extensive spa area set around classical fountains and gardens.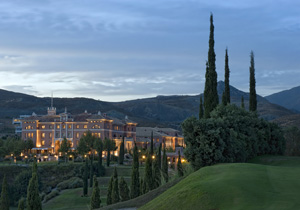 Together with the hotel, the golf club forms the heart of Los Flamingos, offering all the services you'd expect from a professional golf club that hosts a full calendar of social, fundraising, corporate and also professional tournaments. The latter include the Daily Telegraph European Seniors Match Play Championships and the Open Femenino amongst others. Flanking this stylish open course are a series of plots, luxurious villas and modern apartments that straddle the low Colinas or hills of the area. Most of the villas are individually styled properties on large private grounds while the apartments range from contemporary to highly attractive modern classic or modern-Moorish interpretations.
Overlooking the course and its lake, as well as the surroundings with their sea and mountain outlines, they feature individual gated communities with communal gardens, swimming pools and in many cases indoor pools and gym facilities – offering typical Marbella comforts in a setting inspired by Tuscany.