Benahavis
The guide written by experts for those looking to buy prime property or invest in Benahavis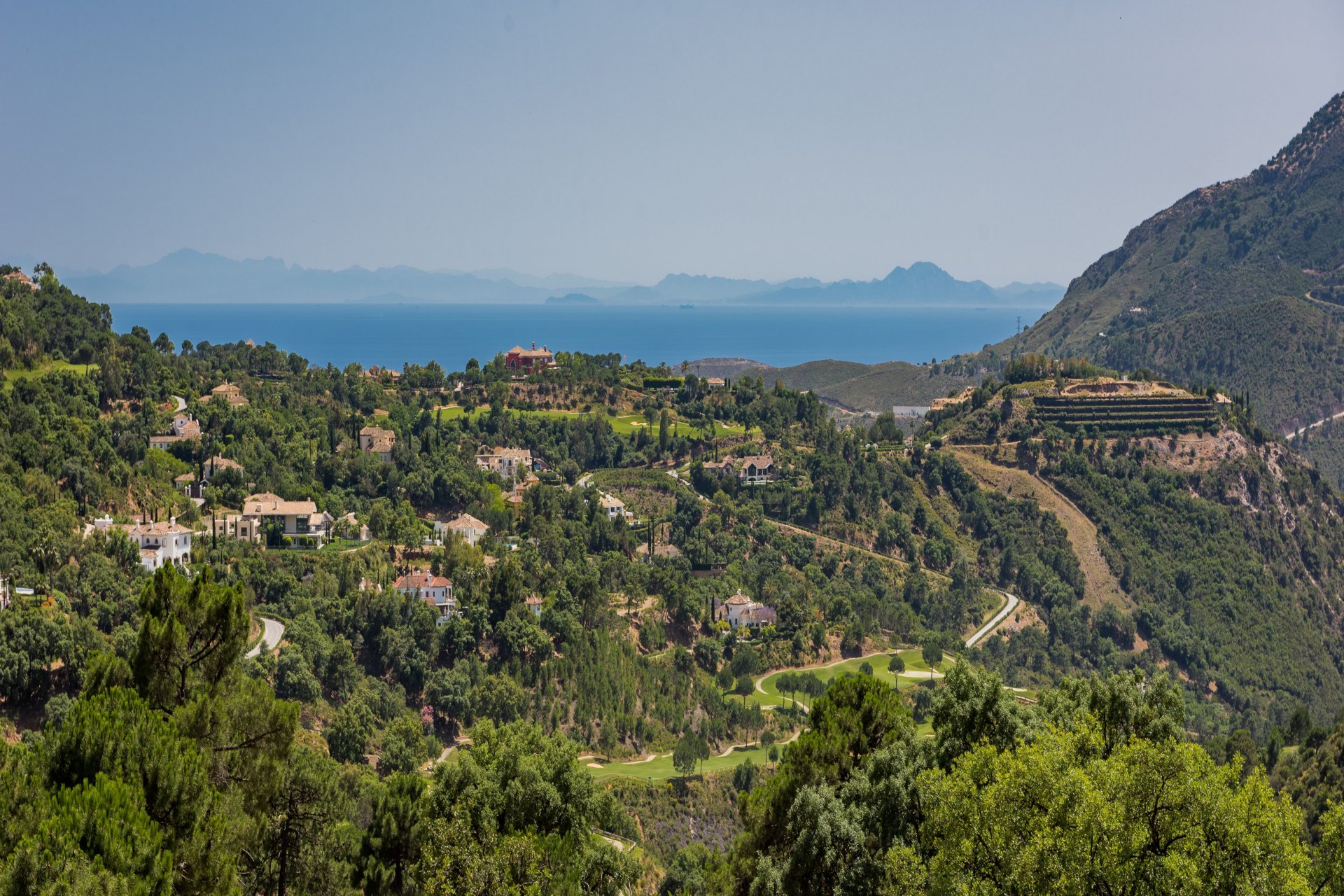 Benahavis, Golfers' Paradise
Benahavis is a Spanish town and municipality in the province of Málaga, 7 km from the coast. It is a 20-minute drive inland from Marbella and offers a peaceful and secluded setting surrounded by nature.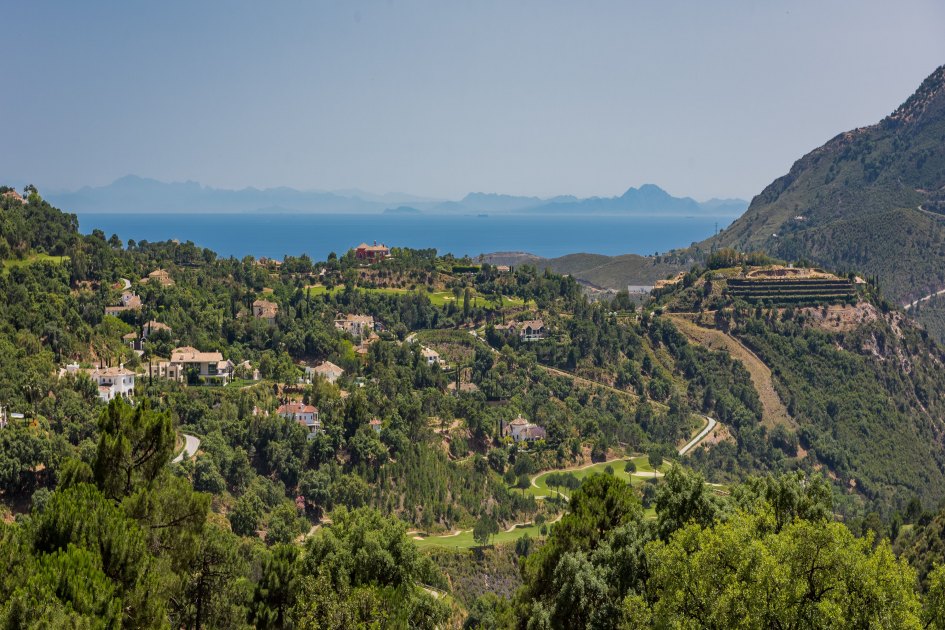 Benahavis is a Spanish town and municipality in the province of Málaga, 7 km from the coast. It is a 20-minute drive inland from Marbella and offers a peaceful and secluded setting surrounded by nature.
Nestled in a valley, Benahavis is a charming white mountain village, with numerous nature-based activities, despite being only 10 minutes from San Pedro Alcántara and 15 minutes from Puerto Banús.
Benahavis is an authentic Andalusian village with narrow streets and houses with whitewashed walls. Although the village is small, the municipality of Benahavis covers 145 km2, which represents 18.08% of the total area of the western Costa del Sol and 1.98% of the 7,310 km2 of the province of Malaga. It has an average altitude of 150 metres and is crossed by the rivers Guadalmina, Guadaiza and Guadalmansa.
The climate is Mediterranean with an average temperature of 17º. Benahavis enjoys the lovely weather for which the Costa del Sol is so famous. Expect at least 320 days of sunshine a year. The village's location in the mountains means that temperatures are slightly lower in winter than in nearby Marbella and Estepona and that it can be a little warmer in summer.
It is well connected to Málaga via the A-7 motorway and the airport is 71 km from the village (about 60 minutes). Gibraltar airport - a good alternative if you are flying to the UK from the Costa del Sol - is about 70 km away.
Within the municipality of Benahavis, there are well-known urbanizations such as La Quinta, Los Arqueros, El Madroñal, La Heredia, Puerto del Almendro and further west Los Flamingos, Capanes, La Alqueria, Marbella Club Golf resort and Monte Mayor. Most of them have excellent golf and sports facilities, such as La Quinta Golf & Country Club, Club de Golf El Higueral, Los Arqueros Golf & Country Club, Flamingos Golf Club, Marbella Golf Club and the prestigious La Zagaleta Golf and Country Club, considered one of the best of its kind in Europe.
The town of Benahavis is known for its world-class golf courses and excellent gastronomy. It has more restaurants, at least thirty, per square kilometre than any other village in Andalusia. They offer the kind of high-quality country fare that has earned the town its reputation as the culinary capital of the Costa del Sol. The village's reputation is now so good that it is home to a school of culinary arts and hotel management.
You do not have to go far to enjoy the pampering services of a resort hotel, the 5-star Anantara Villa Padierna Palace, which has luxurious accommodation, restaurants, function rooms and an excellent health and beauty centre. After the professional therapies and treatments at the spa, you can have lunch and indulge in a cocktail by the swimming pool.
The choice of properties in the Benahavis area is huge, ranging from a small holiday home near a golf course to the most luxurious villas in the hills with fabulous views of the mountains and the Mediterranean.
With all this and the unspoilt nature that surrounds you, it is not surprising that Benahavis rivals Marbella itself as a residential and tourist destination of international repute.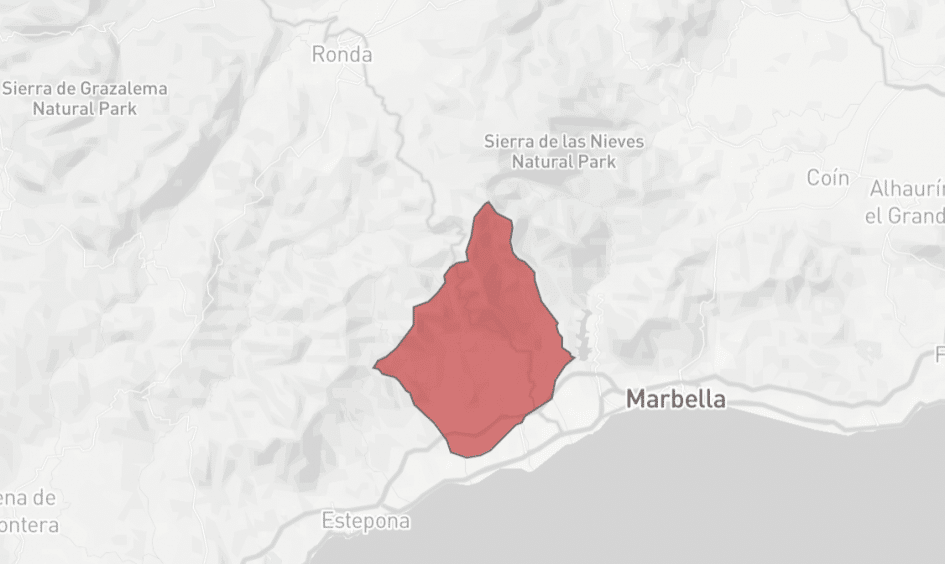 The municipality is part of the so-called Golden Triangle, an area sought after by international property buyers that includes Benahavis, Marbella and Estepona.
Benahavis: Frequently asked questions
Dealing with buyers and sellers of property in Benahavis for so many years has allowed our team to absorb a vast amount of information and knowledge about the Behanavis area. This is just a selection of the common questions we receive. Please if you have any questions or issues relating to the Benahavis area or the Benahavis property market, please do not hesitate to get in touch and we will be happy to update this guide for future reference
Are there any good restaurants in Benahavis?
Benahavis is known as a gastronomic hotspot on the Costa del Sol. There is a good selection of restaurants, from quaint cafés serving tapas to upmarket eateries. Amanhavis, the ever-popular Abanicos, perennial favourites like Amigos and La Escalera, Eden, Lemon Grass, La Terraza and Alcuzcuz Gallery are some of the highlights.
What amenities are available in Benahavis?
Although there are a few shops in Benahavís, San Pedro is the closest option, just 11 km. along the coast with all kinds of services. Marbella certainly offers everything you could wish for in terms of shopping and services, with special mention of La Cañada, an indoor shopping centre with contemporary architecture consisting of fashion boutiques, accessory shops, sports, technical products, restaurants and a multiplex cinema. Puerto Banús also offers many designer shops, big brands, a multiplex cinema and one of the best branches of El Corte Inglés in Spain.
Benahavís also offers more traditional opportunities for shopping for curios, food and, why not, souvenirs. There are also art galleries where you can admire the works of well-known artists and visit temporary exhibitions that will delight you.
The shop's hours are generally from Monday to Saturday from 9:30 to 1:30 pm, and from 4:30 to 8 pm. although they are perfectly adapted to the different nationalities of tourists. Therefore, all restaurants and bars keep their kitchens open for a large part of the day.
Benahavís Flea Market
In the grounds of the Chapel, just a few minutes from the town of Benahavís, you can visit and enjoy a special flea market (Rastro in Spanish) on Sundays. The focus is on antiques, but all kinds of products are offered at the many stalls: Second hand clothes, fruits and vegetables, food and some eateries (do not miss the churros!). It's a wonderful choice to spend a fun Sunday morning in an eclectic place and with an international crowd.
Are there any good hotels in Benahavis?
Although there are not a great number of hotels, the few that it does have are of exceptional quality for their category. The most famous is the Anantara Villa Padierna Palace, a luxurious hotel with a long list of illustrious guests such as Michelle Obama. The Westin La Quinta Golf & Spa with a 27 golf course, divided into 3 courses of nine holes each. The Grand Hotel Benahavis is just a few minutes' walk from the centre. The Apartahotel Caledonia Golf-Spa, a 301-room hotel in Los Flamingos. The 3-star Amanahavis Hotel is within the centre of town. Casa Ella, a boutique B&B also in the centre of town. To highlight is Dehesa Alcuzcuz, a boutique hotel for adults only, 5 km. away from San Pedro de Alcantara, on the road to Ronda.
What healthcare facilities are available in Benahavis?
More possibilities are offered by Marbella where the Hospital Comarcal Costa del Sol is located, 30 minutes drive east of Marbella centre. There are also private clinics such as Ocha, Premium and Hospital Quirón, all in the centre of Marbella.
Is Benahavis suitable for families?
Most of the urbanisations in Benahavís are quiet and safe. However, schools, health facilities and amenities are often only a short drive away.
Where are the nearest golf courses in Benahavis?
Benahavís is a top golf venue that has 12 courses (216 holes in total) spread over 8 clubs. Among them are the 18-hole course Marbella Club Golf designed by Dave Thomas, Los Arqueros Golf & Country Club- an 18-hole course par-71 designed by Spanish golfer Seve Ballesteros -, Los Flamingos Golf Club -an 18-hole, 71-par course, which has already hosted the European Senior Championship and the Spanish Women's Open-, El Higueral Golf Club – a nine-hole, par-36 resort course-, La Quinta Golf & Country Club – with a 27-hole golf course and a golf academy- or La Zagaleta, with two golf courses, the Old one only accessible to residents.
What outdoor activities are there in Benahavis?
There is a wide range of outdoor leisure activities on offer, from cycling, hiking and canyoning in the rugged landscape of the Guadalmina River.
Highlights: The Angosturas Route with its famous Mozas Pond – canyoning in the river gorge and the Acequia path – hiking on the bridge circuit. Also hiking along the Ruta de las Libélulas ( Dragonfly Route), trek to El Castaño Santo (The Holy Chestnut), bird watching on the Benahavís Promenade and Reservoir, or a visit to the 10th century fortress Monte Mayor.
There is also a municipal multisports complex with a gym, a football pitch, a swimming pool, tennis and two padel courts. These are open all year except the swimming pool which opens from the middle of June until September. A golf driving range is just next to it. Besides these activities tennis or padel can be played at The Racquet Club Villa Padierna located adjacent to the Hotel Villa Padierna Palace, which offers eight paddle courts, two of which have glass walls and two tennis courts, one with artificial grass and the other hard-surfaced. Both have flood-lighting. Also there is Los Arqueros Padel Tennis Club with courts with artificial grass.
How far is Marbella City Centre from Benahavis?
Benahavis is approximately half an hour's drive from Marbella City Centre and about 15 minutes from Puerto Banus.
How long does it take to get to the airport from Benahavis?
Málaga-Costa del Sol airport is approximately 60 minutes drive from Benahavis, through the AP-7 toll road.
Where are the nearest private schools in Benahavis?
While Benahavis itself has few choices, there are plenty of good options in a 15- to 30-minute drive.
The closest one is the Atalaya International School (ages 3 to 18), on the Benahavis road itself towards the N-340 Coastal road.
San Pedro Alcántara is home to the Saint-Georges school (ages 3-8), the Calpe school (ages 2-11) and the Laude San Pedro International College (ages 3-18).
In the centre of Marbella there is the Swans Primary School (3 to 12 years old), the French International School of Marbella (3 to 11 years old) and La Latina (3-18 years old).
Within the Golden Mile lies the campus of Swans International High School and the British School of Marbella.
In Nueva Andalucia there is Aloha College International School, one of the major private anglophone schools in Spain.
Properties in Benahavís
Benahavis Town and Municipality
We must differentiate between the town of Benahavis and the wider Municipality.
The town of Benahavis offers townhouses and apartments, with some old traditional villas scattered around in its surroundings.
El Casar is a townhouse residential community found on the right as you are about to enter the town through the main road. Benahavis Hills Country Club, is a community of villas all benefiting from access to a Club House with a wellness centre and SPA, gym and restaurant.
But if we look beyond the town of Benahavis and look at the whole municipality, then the selection and variety of properties and prices is vast. From small townhouses and apartments in complexes like Los Halcones, La Heredia, parts of La Quinta to large estates in Reserva del Alcuzcuz, La Zagaleta or El Madroñal, Benahavis municipality caters to all tastes.
Villas in Benahavis:
For those looking for a secure gated community of villas, Zagaleta Golf & Country Club will likely be the first one on their list.The 400-hectare residential estate is home to some of the finest houses in the region. It provides 24-hour security, concierge services, helipad, equestrian centre, tennis and padel clubs and two 18 hole golf courses each with their own Club House and restaurants.
El Madroñal, which is the less flashy and more picturesque neighbour of La Zagaleta, is home to some of the most charming country houses in the area with lovely views of the coast.The old properties of El Madroñal have achieved record selling prices since 2020 as a result of the growing demand for villas within gated communities and 24 hour security. The infrastructure in El Madroñal, has yet to be improved in some areas (especially the internal roads) and this has contributed partly to prices being lower and more challenging to sell than those of its neighbour La Zagaleta.
To the south of La Zagaleta is Reserva del Alcuzcuz, and while it's not gated, it has a security guard at the main entrance. Here, properties can extend over several hectares of land, some of which are well over 60,000 m2. The properties enjoy total privacy and a true countryside atmosphere, whilst being very close to supermarkets, stores, services and the city centre. In 2021 a project of 8 villas was finished called El Bosque, designed by architects Tobal Arquitectos, consisting of modern homes with 6 bedrooms on plots of 3000m2 enjoying sea views. Banus Heights, a project of 6 villas with a completion date of summer 2023, offers villas with prices from 2.135.000€ to 2.440.000€ for villas with built areas of 388 m2 and 553 m2 and plots of 386 m2 to 670 m2. Aside from villas, there are also apartment complexes such as La Azalia and Botanic Apartments by Taylor Whimpey, which enjoy great sea views.
South of Reserva del Alcuzcuz is Los Arqueros and Puerto del Almendro, with a higher density of apartments around the Los Arqueros 18 hole golf course. Here there are a variety of apartments buildings such as Los Almendros, Los Olivos, Las Jacarandas, Los Pinos, Los Aguilares, La Finca, Residencial Avalón, El Alto, or Los Arqueros Golf & Country Club apartments.The entrance to the area of Los Arqueros is located 3.2km from San Pedro de Alcantara with all it's services, which makes it a conveniently located area.
To the east of the Benahavis municipality and bordering the Marbella municipality is the area of La Quinta and Vega Colorado ( where there has been dispute over where Marbella starts and Benahavis finishes). La Quinta is home to an 18 hole golf course and is an established area of villas, apartments and townhouses. The gated community of El Herrojo Alto, within La Quinta, is home to villas and offers 24 hour security, and lies to the right of La Quinta clubhouse and a 5-minute drive from the AP-7 highway.
North east of La Quinta is an extensive area named Real de La Quinta and bordering the Sierra de las Nieves UNESCO BIosphere. Developers La Quinta Grupo Inmobiliario are underway to develop the area and turn it into another 5 star destination. There are plans for an 6-hole golf course, an artificial lake covering 35,000m2 and measuring over 400m at its longest point, with a Lake Club with restaurant and wellness centre. Stunning modern apartment projects such as Palmitos by renowned architect Rafael de la Hoz, Quercus and Olivos all sold out, and some state of the art turn key villas and villa complexes such as Vista Lago will change the landscaping of the natural extension towards the north of La Quinta.
Vega Colorado, a gated community of villas on the easter border of the Benahavis municipality, is home to some stunning homes with fantastic views of the Mediterranean, prices starting at just under 3.000.000€, within a gated and security environment and at easy reach to Marbella's Golf Valley.
Going west, Los Flamingos, with its famous 5 star Anantara Villa Padierna Palace, is a golf estate which has also seen much development in the past 7-10 years. There are still plots available for development overlooking the sea and the added value of having three 18-hole golf courses close by (Flamingos, Alferini and Tramores golf clubs). The area now houses many new and modern villas as well as apartment complexes such as Tee 6. It is not a gated community but does have security at the main entrance with sensor sensitive barriers. There are some really impressive properties here, some of which enjoy beautiful golf and sea views.
Neighbourhoods such as La Alquería have been in high demand in recent years, with architecture shifting from more ancient traditional houses to very modern and contemporary villas. A quick drive around these areas and you will immediately spot the newer and more modern homes including new developments such as Be Lagom, with 13 villas with BREEAM certificate on plots of 500-760m2 with prices starting at 1.850.000€ or Mirabella Hills, a complex of 14 villas built in 2019 of which most have been sold. Although La Alqueria is densely built in some sections, it is worth noting that it has an 18-golf course with great views.
Prices for properties in Benahavis
Villas in Benahavis:
The prices for villas in Benahavis will vary according to the residential area in which the villa is situated (with closed communities offering more services such as 24-hour security costing more). In general, older traditional villas allowing full or partial renovation are available from 1.3 million euros for a villa of 400m2 on a land of 1400m2. The new villas of ultra modern design of the last 2 years have prices from 4 million euros for a property with sea views. Additionally there are some new villa developments where a villa on a smaller plot of about 700m2 may start at 1.5 million euros.
Apartments in Benahavis:
Apartment prices can vary depending on views, size, services offered by the community and proximity to the main shopping areas or to the sea. Prices for a 2 bedroom 70m2 apartment in the municipality of Benahavis start around 170,000€ all the way up to over 2 million euros for a 3 or 4 bedroom unit of 200m2 or more.
Townhouses in Benahavis:
300,000€ will give you a good selection of townhouses, with approximately 150m2 and 3 bedrooms. 450,000€ for a 3 or 4 bedroom unit of 200m2 or over.
Benahavis or Marbella?
This question will be important when you're thinking of buying a plot to build on. Why?
Marbella is notoriously slow in granting building licences, while its neighbours Estepona and Benahavis are much faster. Marbella's unfortunate political past which saw land being illegally reclassified (in a nut-shell) to build on, has resulted in an overly cautious town hall which can take up to one year to grant building licences for homes on plots which legally comply and have all paperwork in order.
There is little to no land left in Marbella's best areas and prices will be higher than in Estepona and Benahavis.
Therefore unless someone specifically wishes to be in Marbella due to distance from work, schools etc, unless budget allows for it, many people have been opting to buy land in Estepona or Benahavis municipalities.
Property experts in Benahavis
Established in Marbella in 1989, DM Properties - Knight Frank are your local experts for buying and selling property in Benahavis. If you want to learn more on any subject related to the area and surrounding locations, as well as the real estate market in Benahavis, please do not hesitate to get in touch. Our Benahavis property experts, such us Carlos Padilla or Christer Rosen, will do their best to answer any questions you may have.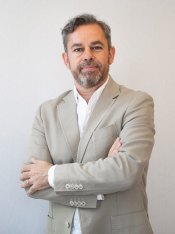 Carlos PadillaProperty Consultant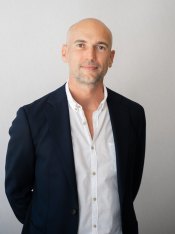 Christer RosenProperty Consultant
Latest articles about Benahavis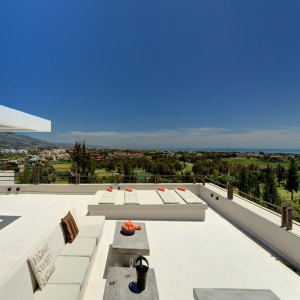 3 min. read · Pia Arrieta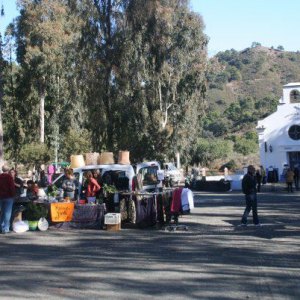 2 min. read · Diana Morales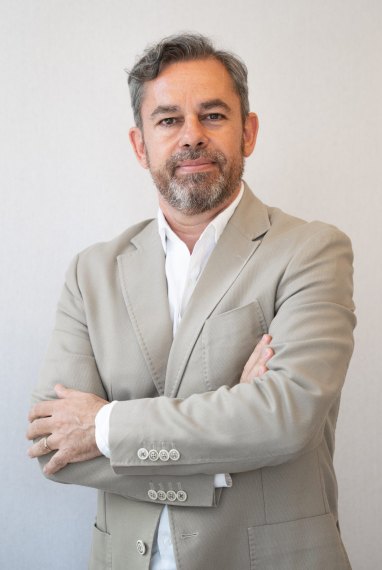 Carlos Padilla Property Consultant

Can we help?
Call now, ask via whatsapp or fill the contact form and we will get back to you asap.