The Golden Mile was established as Marbella's most prestigious address right from the start, as it was here that the glamorous resort town's reputation as an international lifestyle destination first developed around the now legendary Marbella Club Hotel. Since those early, heady days, when royalty, Hollywood stars, tycoons and models rubbed shoulders at glamorous parties and elegant events, the Golden Mile has expanded and matured, filling out along its full 6,5 kilometre length and expanding inland to also incorporate newer prestigious residential areas such as Nagüeles, Sierra Blanca and Cascada de Camoján.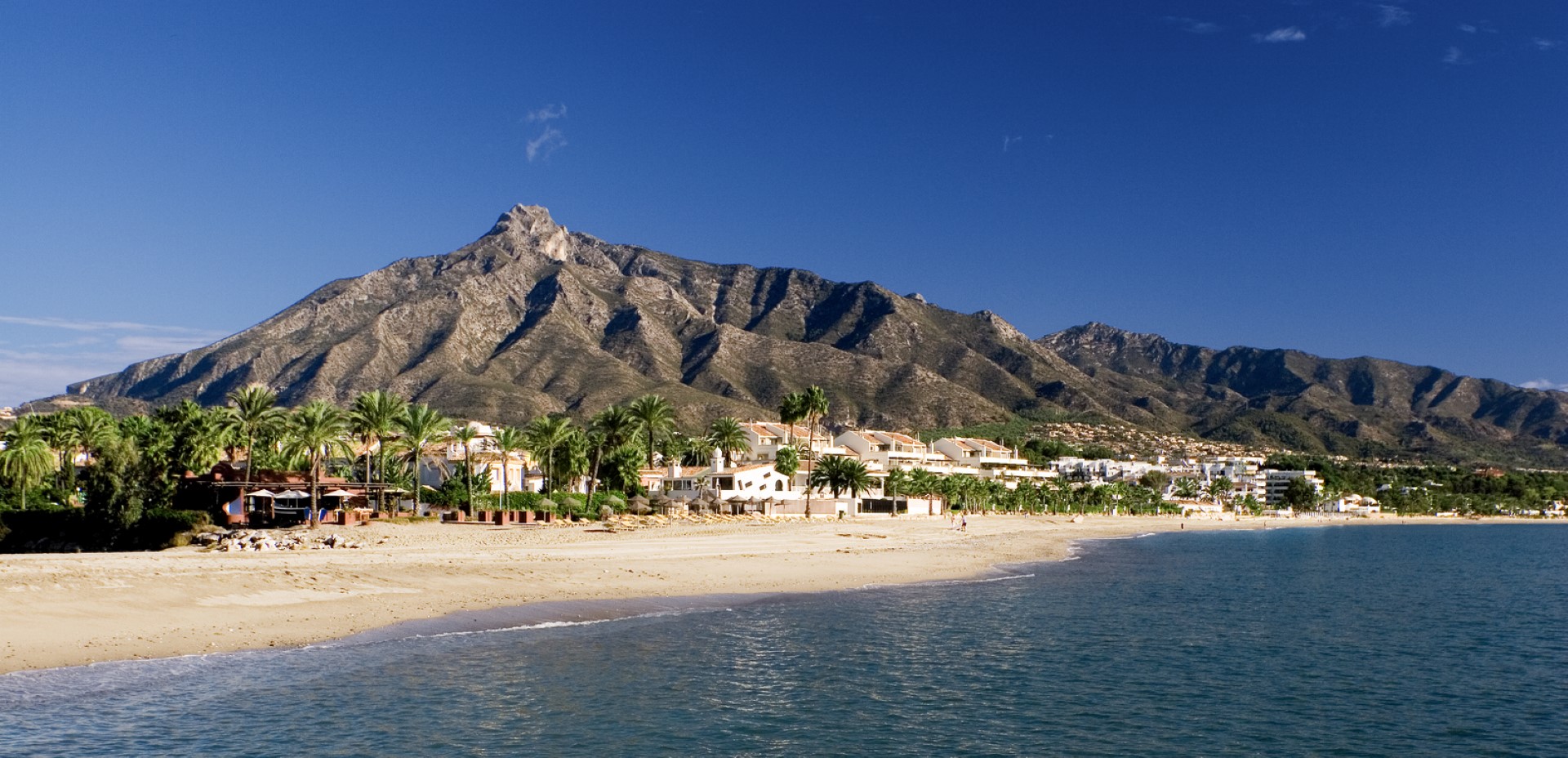 As well-established specialists in luxury Marbella residential property, DM Properties/Knight Frank is proud to present a select listing of quality homes for sale on the Golden Mile, ranging from frontline beach penthouses and mansions to luxurious apartments in beautiful grounds, and villas set in lush private gardens. Below is a small selection of the options available in what remains the ultimate residential choice in Marbella.
Golden Mile apartments
The apartment complexes on the Golden Mile are marked by their style, quality and villa standard luxuries set within beautifully landscaped gardens with lovely mountain and sea views. For all the privacy and exclusivity surrounding properties in this area it also offers surprisingly quick access to the centre of Marbella and Puerto Banús, both of which are little more than five minutes away. Among the finest Golden Mile developments is Imara, an outstanding complex of architecturally styled apartments and penthouses in Cascada de Camojan, but you can also be closer to the beach at urbanisations such as Marina de Puente Romano, Terrazas de Las Lomas or enjoy the gated community environment of Camoján at Monte Paraiso. Families will like the space, privacy and refinement offered by the luxurious townhouses at Sierra Blanca del Mar or El Tomillar de Nagüeles.
Villa living
Above all, though, Marbella's Golden Mile is known for its villas and mansions, and from this contemporary Mediterranean villa in Cascada de Camojan you'll enjoy privacy and stunning views all along the greenery of this area down to the sea. Always one of the most sought-after addresses, Sierra Blanca is home to some of the best homes in the area. This beachside villa on the Golden Mile has the finest qualities and enjoys great views in a privileged location, while this Marbella Hill Club villa is a fine example of the homes to be found in this exclusive area. These modern villas in Lomas del Marbella Club combine the latest style and comfort with a classic Golden Mile setting.
If you are interested in property on the Golden Mile, contact our helpful team at Diana Morales Properties|Knight Frank – we have a prime selection of properties for sale in Marbella's top location and provide information about its real estate market and lifestyle characteristics.