Marbella Golden Mile
The guide written by experts for those looking to buy prime property or invest in Marbella Golden Mile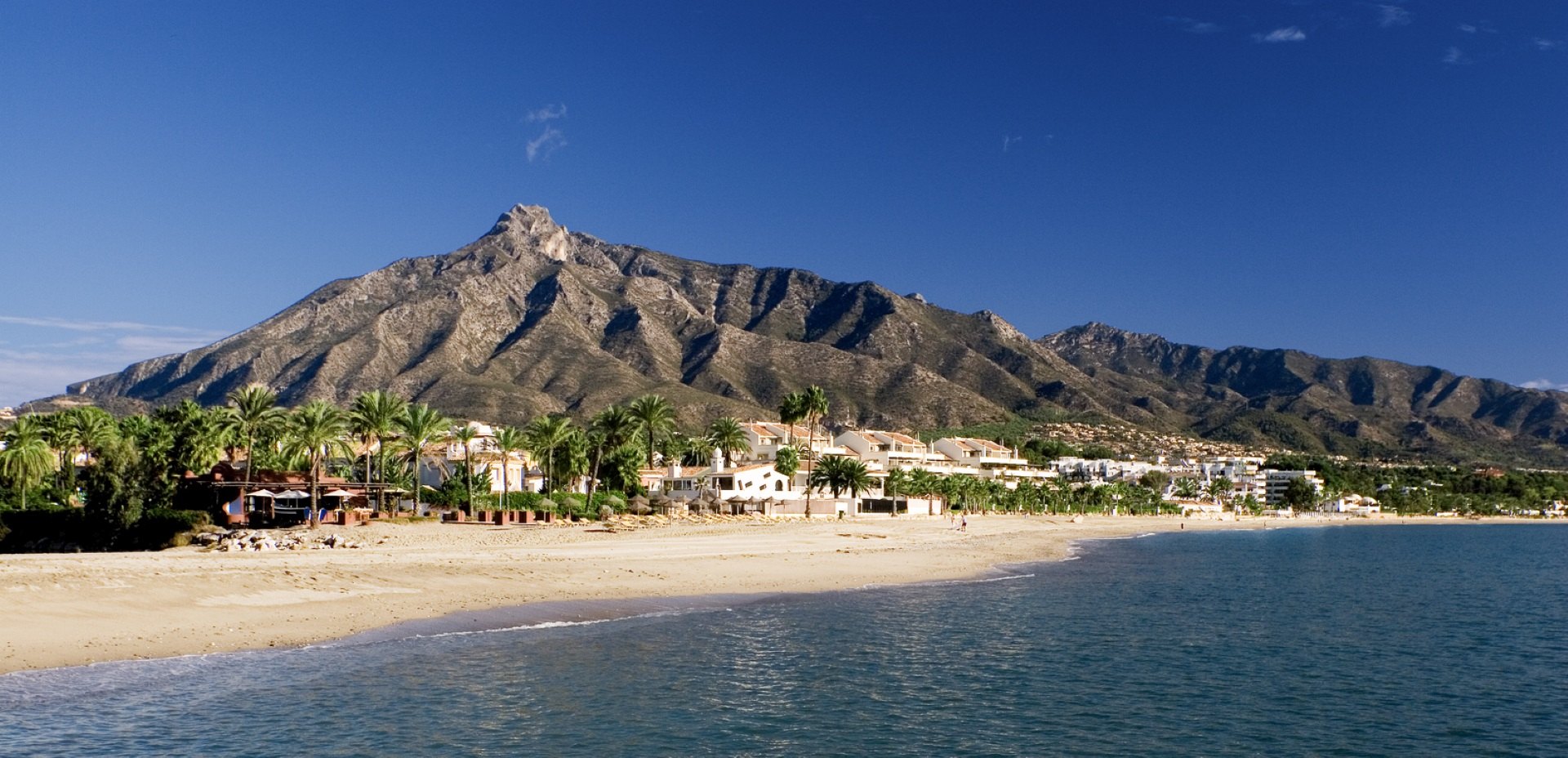 Marbella Golden Mile, Marbella's Crown Jewel
Marbella's famous Golden Mile runs approximately 4.5km which joins Marbella's western part of the town centre with Puerto Banus along the main coastal road. It covers both the beach and the mountainside of the route as far as the Nagueles Natural Park, at the foot of the Sierra Blanca.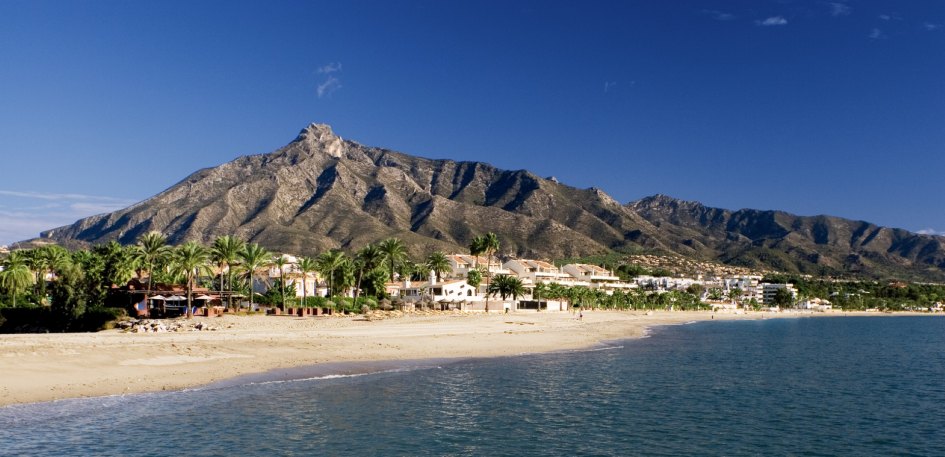 Marbella's Golden Mile is a destination in its own right; a luxurious 6.5 kilometre-long avenue lined with palm trees, luxurious resort hotels, elegant beaches, grand villas and mansions, royal palaces, parks, designer boutiques and fine dining restaurants, as well as exclusive beach clubs.
Marbella's Golden Mile also finds itself close to the golf courses and private schools of Nueva Andalucía, and as such forms the most prestigious address to have in this part of Spain.
Alfonso von Hohenlohe acquired the Santa Margarita estate in the heart of what was to become the Marbella Club. Established in 1954, this famous five-star resort hotel became an icon for the glamorous years that were to follow, when the likes of Ava Gardner, Deborah Kerr, Omar Shariff, Sean Connery and Liza Minelli became regular visitors. The Puente Romano Hotel opened its doors soon afterwards, and it was to become almost as renowned as the Marbella Club itself, yet before long wealthy visitors started building their own villas directly on the shore or in the hills immediately beyond.
With residents such as the Bismarcks, Rothschilds, Thurn und Taxis, Metternichs, Goldsmiths, de Mora y Aragóns and the Thyssen-Bornemisza family, the Golden Mile was soon established as one of the most prestigious addresses in Europe. This status was cemented when the late King Fahad of Saudi Arabia built a summer residence here that resembled Washington's White House both in styling and scale. The area – first named 'La Milla de Oro' by Roy Boston, the German entertainer and developer of the award-winning Alhambra del Mar project – was well and truly on the map.
The Marbella mosque, known officially as the King Abdul Aziz Mosque and designed by Spanish architect Juan Mora Urbano, was commissioned by Prince Salman in honour of late King Fahd, a regular visitor to Marbella. It is located 4 km from the centre of Marbella, right on the Golden Mile, close by to the 20-hectare residence of the Saudi king.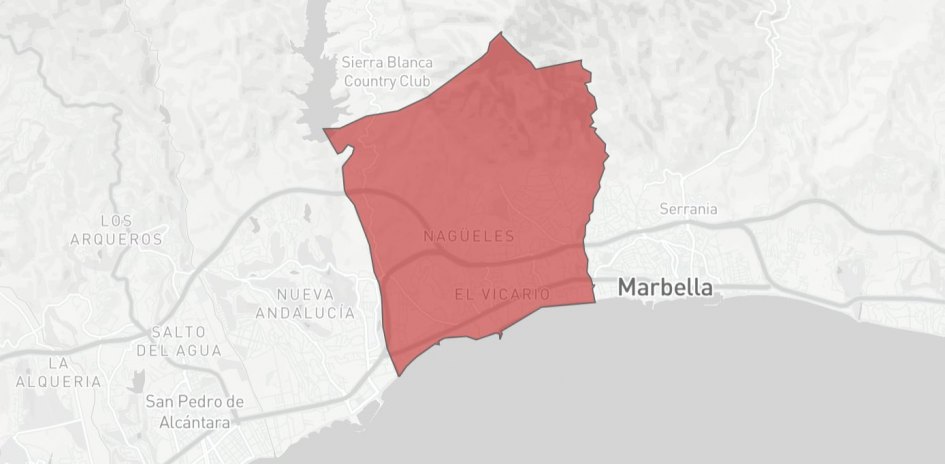 The Marbella Golden Mile is, quite frankly, the best address in Marbella, and one of the finest on the Mediterranean shoreline, with especially the beachside area highly sought after by an international clientele that seeks out stunning beachfront villas, apartments and penthouses in areas such as Casablanca, Santa Petronila, Santa Margarita, Las Torres, Puente Romano, Los Verdiales and Oasis.
Marbella Golden Mile: Frequently asked questions
Dealing with buyers and sellers of property in Marbella Golden Mile for so many years has allowed our team to absorb a vast amount of information and knowledge about the Behanavis area. This is just a selection of the common questions we receive. Please if you have any questions or issues relating to the Marbella Golden Mile area or the Marbella Golden Mile property market, please do not hesitate to get in touch and we will be happy to update this guide for future reference
Why is it called Marbella Golden Mile?
Originally the term was used to define the areas immediately bordering the N-340 road from Marbella to Puerto Banús, including the Saudi royal summer residence, the nearby mosque and the Don Pepe, Marbella Club and Puente Romano Hotels. Over time, the term has come to include adjacent areas in the hills above Marbella, such as Rocio de Nagüeles, Sierra Blanca and Cascada de Camojan, which now share the lustre of being within Marbella's finest address.
What are the top urbanizations in Marbella Golden Mile?
The two which stand out above the rest are Sierra Blanca which is set back, perched above the main road which traverses the Golden Mile and the lesser-known but no less exclusive, Cascada de Camojan, as well as Santa Margarita and Las Torres, both beachside locations on either side of Marbella Club Hotel and within the heart of the Golden Mile. On the beachfront there are also other high-end alternatives, such as Puente Romano with apartments, penthouses and private villas, Santa Petronila, Alhambra del Mar, Las Cañas Beach,Casablanca, Marbellamar, Los Verdiales, Ancon Playa, Oasis Club, Oasis de Banus and Playa Esmeralda.
On the other side of the CN-340 road, there is a group of very special urbanisations such as: La Carolina, El Vicario and Las Lomas de Marbella Club and apartment complexes or townhouses such as Altos de Puente Romano, Señorío de Marbella, Lomas del Rey, Mirador del Príncipe, Monte Paraíso, La Trinidad and the charming La Virginia situated between the CN-340 and the AP-7. Above the Ap-7 are Rocío de Nagüeles, La Quinta de Sierra Blanca, La Capellanía and Marbella Hill Club and interesting residential complexes such as Mansión Club, Imara, Meisho Hills, Le Blanc, Condado de Sierra Blanca, Imara, Lagos de Sierra Blanca and Jardines Colgantes, to name a few.
What is there to visit in Marbella Golden Mile?
The Ralli Museum, next to Coral Beach Hotel, is a ten exhibition room museum that specialises in Latin American art, with a permanent collection of European artists such as Salvador Dali, Joan Miró, Francis Bacon, Man Ray and Marc Chagall. -the museum is free of charge.
The ruins of a Roman villa are located at km.176 of the N-340 road, in Río Verde Playa urbanisation near the river. It would belong to a wealthy family and is characteristic of the fish salting industry in the area. All that is left of the villa are its floors and some walls and the beautifully preserved hand-inland mosaic tiles, dedicated to the culinary theme. The mosaics that can be seen today are dated to the end of the 2nd century AD and the beginning of the 3rd century AD.
A Roman vestige of great importance is the Roman Bridge around which the Puente Romano Resort Hotel was built.
How far are amenities from Marbella Golden Mile?
A ten-minute radius includes all the services and amenities you could wish for, including dining, shopping, international schools, supermarkets, racquet clubs and several world-class golf courses.
Is Marbella Golden Mile suitable for families?
The majority of the neighbourhoods of Marbella's Golden Mile are known for being safe and secure, and very popular with families.
Are there good private schools in Marbella Golden Mile?
Next to Sierra Blanca is Swans Secondary School, while the Swans Primary School is located in El Capricho urbanisation. The British International School of Marbella is also nearby, in Nagueles. Also just a short drive to Nueva Andalucia is Aloha College International School, one of Spain's leading English-speaking private schools. There are other worthwhile school options on both sides of the Golden Mile.
There is also Les Roches, a prestigious international hotel and tourism management school and Marbella International University Centre, a private university that provides higher education for both Undergraduate and Postgraduate levels with degrees in business, international relations, marketing and advertising and psychology.
For the youngest members of the family, Patatina Banus Baby School is a bilingual nursery school on a 2000 sqm. of garden with qualified staff, where children play freely and exercise their motor skills.
Are there good hotels in Marbella Golden Mile?
There are three well-known hotels in this area. The already mentioned Marbella Club Hotel – a favourite destination that offers elegance, service and refinement- , the Puente Romano Hotel– adjacent to the Marbella Club and is its sister hotel- includes a magnificent beachside club and restaurants, as well as a renowned tennis club, owner's VIP membership club facilities and the Six Senses Spa and Nobu Hotel – inaugurated by Robert De Niro – set within the Puente Romano resort, is a study in sleek modern design, décor and privacy in a luxurious environment.
In addition to these three renowned hotels there is also the Gran Meliá Hotel Don Pepe, Hotel Iberostar Marbella Coral Beach, Alanda Hotel Marbella – opposite Puente Romano-, Senator Marbella Spa and NH Marbella.
Best places to wine & dine in Marbella Golden Mile?
In the Puente Romano hotel you will find many of the finest restaurants in Marbella, from the famous Nobu Restaurant to the Michelin-star Dani García restaurants: the steakhouse Leña, Aleli, Kemuri and Babette, as well as the Italian speciality of Serafina, the Monkey Club and, a little further down near the beach, the famous Sea Grill. A special mention to La Plaza, a most frequented restaurant at the heart of Puente Romano.
There is a nice group of top quality restaurants clustered around Carolina Park such as Villa Tiberio, restaurant set in 6,000 sqm. of formal Italian gardens which specialises in Italian and international food; Cabaña Nagueles, an Argentinian restaurant, with an open grill; Cibo, authentic Italian food at sensible prices, Da Bruno a Casa, a long established Italian restaurant and Lobito de Mar run also by Michelin-starred Dani García.
Sukhothai, New Tai Pan and Thai Gallery are excellent Asian restaurants conveniently located in the Golden Mile.
Last but not least, ERRE & Urrechu in Hotel Meliá don Pepe, is an excellent option as a grill-wine restaurant, with three grills using different woods. There are vegan options.
Are there beach restaurants in Marbella Golden Mile?
Very popular and one of the oldest in this area, Victor's Beach is a cosy beach club and restaurant situated on Ancón Playa. It is a joyous spot, especially during the summer months, when the beaches and waves offer a scene of summer fun as you tuck into delicious seafood, fresh Mediterranean cuisine and refreshing drinks.
Trocadero Playa,MC Beach, Beach Club de Marbella Club, Chiringuito at Puente Romano and Besaya Beach are among the most exclusive beach club venues in the region.
What sporting activities are there in Marbella Golden Mile?
The racquet club that forms part of the Puente Romano resort is an attraction in its own right. First opened in 1979 and managed by none other than Bjorn Borg, this is a suitably stylish tennis club that also features ample facilities for paddle tennis, a locally popular sport.
What outdoor activities are there in Marbella Golden Mile?
The promenade that connects the coastline of Marbella and Puerto Banús is ideal for jogging, walking and cycling.
Are there any hiking routes near Marbella Golden Mile?
There are several routes leading to the top of La Concha Mountain which overlooks Marbella, being the most popular one, Refugio de Juanar to La Concha mountain. Once you reach the top, you'll be rewarded with simply breathtaking views of Marbella, the shoreline of the Costa del Sol, the Mediterranean Sea, Gibraltar and North Africa.
How far are healthcare facilities from Marbella Golden Mile?
All the modern healthcare facilities of Marbella are very close to Marbella Golden Mile. The public hospital Costa del Sol hospital is located 10-15 minutes away by car depending on where you are and the time of day. The Ochoa Clinic and Quiron Hospital in Marbella centre are nearer still, within a few minutes drive.
How far is Marbella City Centre from Marbella Golden Mile?
Marbella Golden Mile borders the eastern part of the city centre, from the western edge of the Golden Mile it's only a 10-minute drive to the centre.
How long does it take to get from Marbella Golden Mile to the airport?
It's a 35-45 minute drive from the Malaga-Costa del Sol Airport to Marbella Golden Mile. Gibraltar Airport is just over an hour's drive from Marbella Golden Mile. In both cases, it depends on whether you take the faster toll roads or the public highways, and the time of the day.
Which are the best nightclubs in Marbella Golden Mile?
Nightlife in the area is focused on venues such as La Suite at the Puente Romano, a lounge and a night club that is open all year round and Olivia Valere, on the Istan road, which opened in 1997, and built with a vast dance floor, several bars and an a generous outdoor terrace.
Alternatively Bless, located in Marbellamar with a spectacular terrace, is a place where everyone can enjoy house music played by the resident and guest DJs or Momento Marbella, easily recognised by passers-by and clients alike for its modern and impressive façade, which is located next to the Oasis business centre and opposite the Oasis urbanisation.
What is the postal code in Marbella Golden Mile?
The zip code or código postal for Marbella Golden Mile is 29602.
Properties for sale in Marbella Golden Mile
Golden Mile offers a wide variety of property types and prices. From stunning beachfront properties in prime areas such as Las Torres, Santa Margarita, or Puente Romano, elegant villas in tranquil Sierra Blanca and Cascada de Camojan boasting stunning coastal views, to apartments and townhouses in both beach and mountain side locations.
Villas in Marbella Golden Mile: A 3 bedroom villa with a 1000m2 plot will start in the region of 1.000.000€ in the areas of Nagüeles or La Carolina for example. Properties in Cascada de Camojan with plots of circa 1500m2 and built areas of 600m2 will start at 2 million Euros while their Sierra Blanca counterparts will start at 3 million Euros reaching a price of near 30.000.000€ for a 10 bedroom villa on over 5.500 m2. of land.
If we are looking at a beachside location within the Golden, for example Casablanca or Rio Verde Playa, villas here are usually set on smaller plots of around 500m2 – 800m2 and are on the market with prices starting at 2.500.000€ up to over 4.000.000€ while those located in more prime areas such as Santa Margarita or Las Torres, in the vicinity of the Marbella Club and Puente Romano Hotels start at 7.000.000€. On the rare occasion that a frontline beach villa in the areas between Casablanca and Puente Romano comes on the market prices would usually be well in excess of 15 million Euros. El Ancón, a group of 10 villas (5 on the front line beach and on the second line) are rarely on the market.
Apartments in Marbella Golden Mile: Marbella's Golden Mile offers a large number of residential complexes to suit all tastes and budgets.
Few beachfront apartment complexes have been built and range from Alhambra del Mar, just off the Golden Mile, through Marina Mariola, Las Cañas, Puente Romano, Port Oasis, Playa Esmeralda to Oasis de Banus. Apartments in Alhambra del Mar, a complex built in the mid 80's, on a lush garden with water lilies and waterfalls, are around 1.200.000€ for a 2 bedroom flat with 124 m2. built plus terrace. The proximity to the centre of Marbella and being in front of the sea and promenade, makes them very sought after, although some of them are in need of renovation.
In Las Cañas beach, built in 2003 with a communal pool, you can find a two-apartment close to 1.000.000€ in 140 m2. built plus terrace. Difficult to find a property for sale in Marina Mariola.
Prices skyrocket when you get into Puente Romano. Deserving a chapter of its own, Puente Romano is one of Marbella's landmarks and iconic hotels is home to the 5* Nobu Hotel, 5* Puente Romano Hotel and Tennis Club. Within the hotel area there are some privately owned apartments: Sales prices here continue to set new records with apartments with no views sometimes reaching prices in excess of 10,000€/m2 and those on the frontline beach reaching prices over 12,000€/m2. In the surrounding area of the Puente Romano Hotel, complexes such as Jardin Japonés, Jardín Andaluz and Jardín Persa, Las terrazas de Puente Romano, tend to sell quickly and are highly demanded. Villas at Puente Romano are limited and rarely come on the market and when they do prices can be anywhere over 10,000,000€.
Bordering Puente Romano on the west, on what is called El Ancon playa, a new residential development called UNO Beach Residences is underway. Consisting of around 58 apartments and possibly a reduced number of villas with a fantastic beach club and leisure facilities for its residents, UNO sold out during its pre-launch phase. It is a much awaited project in one of Marbella Golden Mile's last remaining beachfront positions. Expected completion date is December 2023.
Rarely do you find apartments for sale in Port Oasis, in Playa Esmeralda or in Oasis de Banus, these last two close to Puerto Banus, and when they do they can be upwards of 5,000,000€ for a 350m2 property in Oasis de Banus and in the region of €2,000,000 for a 3 bedroom apartment in Playa Esmeralda.
Across the road, there is a long and varied list of complexes, of which Jardines del Principe stands out, just a few metres from the Palacio de Congresos and the beach, where a 190 m2. -apartment is close to 1.000.000€. Heading towards Puerto Banus are Infantado, Costa Nagüeles I, II y III, Hacienda Nagüeles I y II, La Reserva de los Granados, Marbella Real and La Carolina Park, the oldest complex in this area, where a 50m2 apartment plus terrace may be bought at €225,000. About a kilometre above La Carolina Park, is Los Pinos de Nagüeles, a complex with outdoor swimming pool and paddle tennis court, where a 100m2 dúplex penthouse is priced at 325.000€.
Close to the Mezquita, there are complexes such as La Solana, Las Mariposas and Señorio de Marbella; the latter with five swimming pools, two tennis courts and two paddle courts, where a two-bedroom apartment with 65 m2. can be purchased for 650.000€.
Upwards are El Mirador del Príncipe, Lomas del Rey, Monte Paraiso and Quinta del Virrey, priced between 900.000€ and 1.500.000€. Further towards the Sierra Blanca mountain range are the very popular Coto Real, Coto Real II, Ancon Sierra y Ancon Sierra IV, Jardines de las Lomas de Marbella Club, King Hills and La Cascada and close to the Istan road the impressive Las Terrazas de las Lomas, built in 1987, in which a 3 bedroom apartment with 200m2. built surface plus 130 m2. terrace can be purchased at 1.150.000€.
Just a few minutes walk from the Puente Romano Hotel, across the road, are Balcones de Puente Romano with prices near 1.000.000€ for a 2-bedroom apartment and Señorio de Vasari, if any for sale, should be in the region of 2.000.000€.
On the side of the road to Istan is La Trinidad, a highly sought after complex with its extremely large communal gardens, 24 hour security and indoor and outdoor pools, starting at 1.000.000€ for a 2 bedroom, 130m2 plus terrace apartment. Further up , Lomas de Sierra Blanca, a 47-unit development built in 2004, has apartments whose prices range between 750.000€ and 1.200.000€. Nearby, newly built spacious luxury apartments such as those found in Epic by Fendi, start at 2.5 million Euros, for a 390m2 unit, including terraces.
Beyond the A-7 road there are also complexes with a variety of styles, qualities and prices. Starting in the area known as Arroyo de las Piedras, near the tunnel to Puerto Banús, there are a number of complexes, most of them built between the 1990's and early 2000's starting with Marberia, followed by Cortijo de Nagüeles, Pueblo Bermejo, Jardines de Sierra Blanca and Cumbres de Marbella.
Monte Paraiso Country Club, on the road to the prestigious Sierra Blanca and Cascada de Camojan, has 3 bedroom apartments priced from 900.000€.
In Sierra Blanca only two complexes have been built: Lagos de Sierra Blanca and El Alfar. Again here as in other sought after complexes or areas it is almost impossible to find a property for sale. A 3 bedroom duplex penthouse can cost 1.500.000€.
Neighbouring the Buchinger Wilhelmi Clinic are Mansion Club, Retiro de Nagüeles and Virrey de Nagüeles, whose prices range from 900.000€ for a 3-bedroom flat in Mansion Club to 2.800.000€ for a duplex penthouse in Retiro de Nagüeles.
One of the most long standing complexes in the area, in which almost all units have great sea views and some with private plunge pools, is Jardines Colgantes, where a 4-bedroom flat can cost up to 1.500.000€.
The most sought after and renowned complexes in this sector are undoubtedly Reserva de Sierra Blanca where a duplex penthouse of 528 m2. distributed over 4 bedrooms costs 2.950.000€ and Imara with well kept communal gardens, 24 hour security and indoor and outdoor pools, will start at 1 million Euros for a 2 bedroom, 130m2 plus terrace apartment.
If this is not enough, a high-end resort has been completed opposite the Coral Beach Hotel by the end of 2022 and there are two more under construction near Puente Romano.
Townhouses or semi detached homes in Marbella Golden Mile: There are several communities of townhouse or semi detached houses within the Golden Mile- though not as many as apartment developments-, with prices starting at 500,000€ for a 120m2 townhouse in Las Lomas de Marbella, 650.000 € for a 376 m² + terrace townhouse in Oasis de Nagüeles or 950.000€ for a 285m2, 4 bedroom townhouse in Coto Real. Within these prices are other complexes like Club Sierra, Altos de Puente Romano, Jardines de Doña Maria, El Capricho, La Virginia, Las Lomas Pueblo,Arco Iris, La Joya, Marbelah Pueblo, Ancon Sierra, La Meridiana, Montepiedra, El Tomillar de Nagüeles, Corona de Nagüeles, Single Homes Nagüeles, or in Marbellamar, in the beachside of the Golden Mile.
In excess of 1.3 million Euros in Monte Marbella Club, or in Marbella Senses; larger townhouses of 400m2 built such as those in complexes like Meisho Hills start at 1.600.000€ and prices may reach 1.995.000 € for a 5-bedroom unit in Sierra Blanca del mar, a gated and secure complex of 15 properties.
Prices reach over 2.500.000€ and more in Oasis Club and Coral Beach or for a brand new luxury semi detached home such as those in Le Blanc.
Yet there are still complexes where it is almost impossible to find a property for sale such as Marbella Hill Village, Las Vistas Marinas, Hill Club Sierra Blanca and Jardines de las Lomas.
Plots in Marbella Golden Mile: Buildable land has always been very sought after in the Golden Mile,especially in certain areas, more so beachside, experiencing a lack of land all together.
In the past five years, buyer interest has been particularly focused on the upper part of the Golden Mile, close to La Concha mountain, where there are still plots in Sierra Blanca of approximately 2.000m2. at prices between 1.100€ to 1.900€/m2. (average price: 1.100€/m2) or in Cascada de Camojan of 1.800m2 to 3.500m2. with prices between 800€ and 1.800€/m2. In the lower part or close to the beach, there are also few plots available or old properties to demolish, which have an average price of 1.000€/m2.
Property experts in Marbella Golden Mile
Established in Marbella in 1989, DM Properties - Knight Frank are your local experts for buying and selling property in Marbella Golden Mile. If you want to learn more on any subject related to the area and surrounding locations, as well as the real estate market in Marbella Golden Mile, please do not hesitate to get in touch. Our Marbella Golden Mile property experts, such us David Wisbar or Carlos Padilla, will do their best to answer any questions you may have.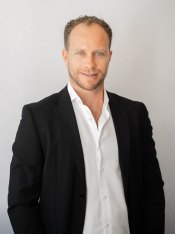 David WisbarProperty Consultant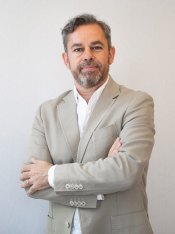 Carlos PadillaProperty Consultant
Properties in Marbella Golden Mile
Areas in Marbella Golden Mile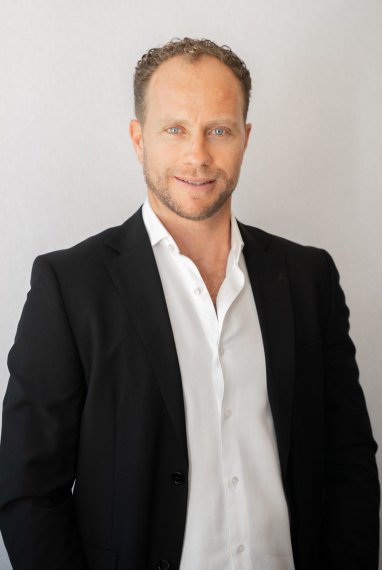 David Wisbar Property Consultant

Can we help?
Call now, ask via whatsapp or fill the contact form and we will get back to you asap.